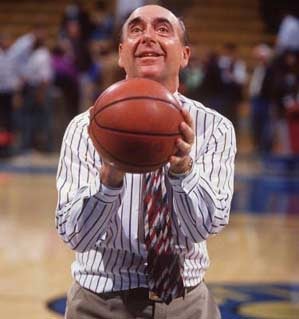 With conference play under way and some big match-ups around the corner, the college basketball season's on its way to 11. Nearly ready to crank up the volume is the Master of Decibels himself, Dickie V:
ESPN college basketball analyst Dick Vitale has been cleared to return to broadcasting after a successful surgery in December to treat ulcers on his left vocal cord. ...Vitale is scheduled to return to the "Mike & Mike in the Morning" ESPN Radio show on Feb. 4 and plans to call his first game on Feb. 6 between Duke and North Carolina.
Yes, Vitale's doctors are so confident in their work that they're trusting their patient to ease back into his job with a Duke-Carolina game. This is roughly equivalent to releasing a gastric bypass patient into a mall consisting entirely of Hometown Buffet and Cold Stone Creamery stores, locking the door, and piping in hot fudge in lieu of elevator music.
Dickie V Returns [ESPN]