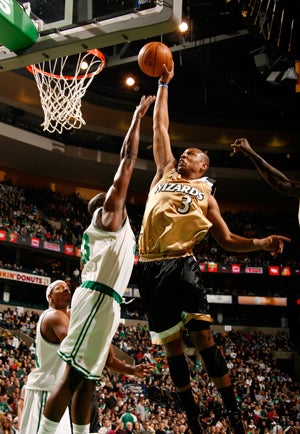 The NBA Closer is written by our Canadian weekend maestro J.E. Skeets. When he's not busy scouring the box scores or shuffling around in his revolutionary sleeping bag, he can be heard on The Basketball Jones daily podcast.
• Caron Butler Hates The Irish. Always has, always will. Butler scored 21 points as the Wizards beat the Celtics 88-83 for their second victory over Boston in three days. Trailing by 14 halfway through the fourth, the Wiz mounted an improbable 19-4 run to take the lead with 40 seconds left on a gorgeous Butler lay in and-one. YOINK! Boston has now lost consecutive games at home for the first time all season and drops to 30-6. Yes, drops.
• Cue The Kobe Show. The MRI results are in. Andrew Bynum, a big factor in the Lakers' strong start, will be out at least eight weeks because of an injured left knee. Ugh. The Lakers are freakin' screw— oh, they still have Kobe? He didn't get traded to the Bulls? Never mind then. The Black Mamba capped his season-best offensive outburst (48 points) by nailing an 18-footer with 4 seconds left in overtime to help the Lakers beat the Sonics 123-121. And hey, it only took him 44 (!) shots. Efficient. Los Angeles has won seven straight.
• Go Back To Denver And Tell Them There That Charlotte's Daughters And Sons Are Yours No More. After consecutive heartbreaking losses — in double-overtime to Cleveland and in overtime to Detroit — the Charlotte Bobcats had seen enough, thank you very much. Gerald Wallace scored 40 points, Matt Carroll added 19, and it was the Cats making the big plays down the stretch for a change in a 119-116 win over the Nuggets. Said Wallace post-game: "Tell them Charlotte is free."
• A Beautiful Fade Without A Name For So Long. In just his second game back from a groin injury that kept him sidelined for nearly six weeks, Kevin Martin scored 39 points in less than 28 minutes and John Salmons hit a game-winning drive with 2.4 seconds remaining to help the Kings snap the Mavs' seven-game winning streak with a 122-120 victory. Not bad. "For me it's just basketball," Martin said. "I always felt like I could come back and play. It was just a matter of where my wind was." My wind is in my ass. Fact.