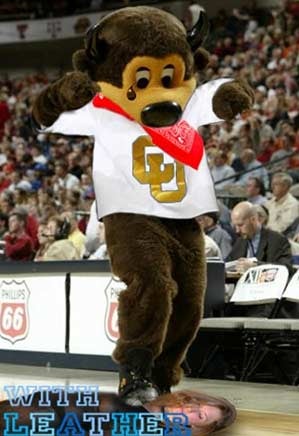 We have long felt that our nationwide mascot menace has proven, ultimately, not quite menacing enough for our tastes. Fortunately, some students at Colorado are fixing that.
Apparently, for "Kid's Night" at a Nuggets game, they "gangster"ed up the Colorado mascot.
The incident happened when Chip, CU's costumed buffalo mascot, showed up Friday at the Pepsi Center in Denver for a "kid's night" Nuggets basketball game dressed in "gangster-themed" attire. The fuzzy, cartoon-like buffalo replaced his trademark CU clothing with a white T-shirt and baggy pants, a do-rag and fake gold teeth. The costume also had a graphic of a teardrop tattoo below one eye...
We haven't received any pictures of the mascot yet, but, frankly, we can't think of anything we'd enjoy more than With Leather's illustration there. Whatever it actually looks like is destined to be a disappointment.
Non-Racist Mascots Can Be Racist Too [With Leather]