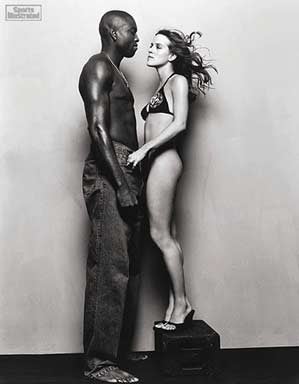 We haven't caught up with former NBA All-Star Glen Rice for a while. What's he up to? Playin' some golf? Sellin' some cars? Well, no. He's walking into his estranged wife's home and finding a guy hiding in the closet. Uh-oh.
All told, we suspect it could have been worse for the guy.
The 6-foot-8-inch former basketball star went to the Coral Gables home he once shared with his estranged wife and four kids and used a key to enter the front door. Once inside, he confronted his wife, Christina, and demanded to know the identity of the man who he found crouching in the master closet.



"Mr. Rice then grabbed the victim by his throat and physically removed him from the bedroom," Miami-Dade police spokesman Roy Rutland said.
The guy then ran off and called the police; he said he needed nine stitches to his forehead. It is not said whether or not Rice causes those; we prefer to think he was lanced by a stray wire hanger while he was hiding in the closet.
Former Heat Star Arrested On Battery Charge [Local10]
(UPDATE: Outstanding find from Sports By Brooks: The guy in the closet is a dance instructor who invented Zumba! Whatever that is!)