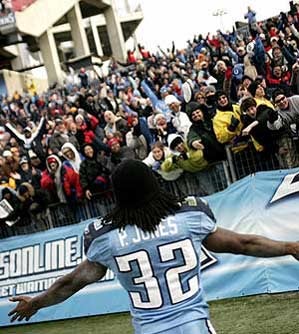 OK, now we hope you are sitting down. Take a drink of water. Relax. Deep breaths. OK. Are you ready? Are you really ready? Because you're gonna need some time to digest this one: Pac Man Jones is in trouble with the law again.
Pac Man is accused of slapping a woman outside a north Atlanta strip club back on January 3 on 3 a.m.. The woman wasn't a dancer, though, apparently; she's a defense attorney.
She filed an arrest warrant against him in Fulton County Magistrate Court; the name of the strip club is the Body Tap Strip Club.
If anything, one would think Pac Man would have learned to keep his distance from both strips clubs, and lawyers. Alas, a combustible combination.
Pacman Allegedly Strikes Woman In Strip Club [Nashville City Paper]