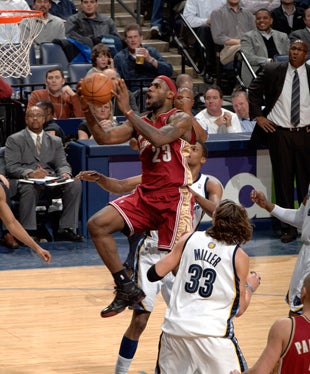 The NBA Closer is written by our Canadian weekend maestro J.E. Skeets. When he's not busy scouring the box scores or eating cereal, he can be heard on The Basketball Jones daily podcast.
• Zoom-Zoom. Last night, LeBron James abused Mike Miller like an open stretch of Ohioan highway. *Short snare drum roll with a cymbal crash* The King scored a season-high 51 points, including 25 in the fourth quarter and overtime, to lead the Cavaliers over the Grizzle 132-124. James made 18 of 28 shots and had nine assists and eight rebounds. (Take note, Kobe.) The 51 points matched the best scoring performance of the season.
• Hang The Banner. Washington beats Boston. New York beats Washington. Therefore, New York is better than Boston. It's simple math really. Jamal Crawford scored 29 points as the Knicks beat the Wizards 105-93 to give Zeke and his boys consecutive victories for only the third time this season. Zach Randolph added 14 points for the Knicks, who'll shoot for that super rare three-game winning streak tonight in New Jersey.
• Thief In The Night. If you're missing a crisp twenty dollar bill from your man-purse this morning, chances are Baron Davis has it. The Bodyguard had 22 points, nine assists and a season-high five steals to lead the Warriors past the Wolves 105-98. Antoine Walker led Minnesota with a decade-high 26 points off the bench. No, seriously, he did.
• Sam He Is. Phoenix not like losing here or there. Phoenix not like losing anywhere. Phoenix not like losing with a Bell. Phoenix not like Sam, Sam-J-Cassell. Sam Cassell scored 32 points and had seven assists as the Clippers beat the Suns 97-90 to snap a four-game losing streak. Corey Maggette added 21 in the win.