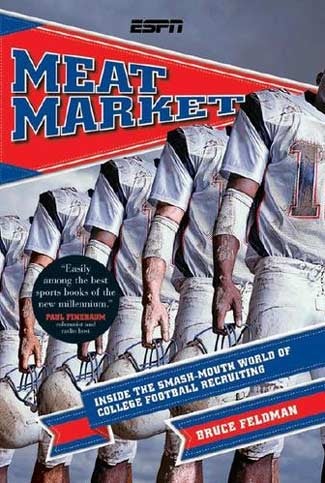 We love books. Books are fun. They're so full of booky goodness. And because we don't have time to read and write about every sports book, we've corralled three regular Deadspinners to continue the Deadspin Book Club, discussions of current sports books. (Previously, they did Running The Table.) Your panelists are Unsilent Majority, Signal to Noise and The Starter Wife. This month's book is Meat Market, by Bruce Feldman. Do enjoy.
————————————-
S2N - It's actually kind of interesting, having to look at the merits of this book well after Ed Orgeron has been shitcanned and replaced by Houston Nutt, who is probably just as insane as Coach O, yet in completely different ways. I have the fortune of reading this book about recruiting not too long after tackling 40 Million Dollar Slaves, and so it's like reading an entire season of the Conveyor Belt.
It was smart of Feldman to outline the recruiting calendar and what the periods actually mean from the get-go, otherwise there's no way we're able to follow this and the gyrations necessary by the coaches to avoid NCAA sanction. What was remarkable is just how many athletes college coaches run after who obviously have no business being there academically. This is no surprise to any of us, I'm sure — but it was interesting to read just how many high school prospects had to either be sent down the junior college/prep school route and the tricks used to get them eligible.
Obviously, the book depends on the character and legend of Orgeron to drive it. We have the benefit of hindsight, knowing that he's out of a job and all the efforts in the book weren't nearly successful enough, but I'm interested to read what you both think of the myth and the semi-reality presented by Feldman.
UM - I really enjoyed the book, which didn't come as much of a surprise given my affinity for the recruiting game. Feldman did an excellent job of breaking down a process that most casual fans never really understand. Instead of getting lost in the back stories of all of coaches and recruits, he kept his focus on the process and the work that goes into building a competitive program.
You said that the efforts of Orgeron and his staff that were documented in the book weren't nearly enough to keep them employed, but I'm not sure about that. The coaches were fired because the team couldn't get anything done on the field, but not because Orgeron was unable to bring in talented recruits. Houston Nutt will almost assuredly win more games next season, but it will be thanks to the quality of talent that has entered the program.
S2N - That's a good point. It's interesting to see the process evolve based on the events of the current team. I'm thinking of the 10 or so players who got busted during the season for pot in an apartment — as a result, the recruit pool is then further limited, as character guys become a priority, and Ole Miss finds itself in need of linebackers more than originally thought.
TSW - I have to get this out of the way - I am at best a casual college football fan. I did not go to a big football university, my sister did not go to a big football school, and my parents did not go to big football schools, so I have little connection to what life is like on a big campus for game day. I've long been somewhat astounded by the fervent, cult-like behavior of SEC fans. So to Orson at EDSBS and my Ladies cohort Holly; please don't kill me if I say something wrong.
Moving on.
I absolutely loved this book. Bruce Feldman did such an outstanding job handling Orgeron's backstory, I ended up completely in awe of what he was building as first time head coach. Much like S2N pointed out, Feldman did great job at laying out how the recruiting calendar worked, and how Orgeron had his days around the calendar planned out down to the minute.
UM - Speaking of Orson, I was pleased to see Feldman quote Spencer Hall instead of "Orson Swindle." It's probably the only book that thanks a blogger and Colin Cowherd on the same page.
TSW - And while UM said that the book did not get too bogged down in the players' and assistant coaches' backstories, Feldman knew which players to give the reader more on, like Rishaw Johnson. So when player's names were woven in and out of the time line, you rooted for them to go with Ole Miss.
UM - Absolutely, unfortunately I already knew which players would be committing in the end. Although I paid a bit of attention to the battle for Joe McKnight I never realized how close Ole Miss was (or thought they were).
I thought Feldman was wise to keep his focus specific, but I would love to read more on the balancing act between year-round recruiting and all of the actual coaching.
TSW - Agreed. I kept waiting to get to the chapter that would talk about how they prepared for a game with the players that were there already. I understand why Feldman kept it all about recruiting, but I kept feeling like the players that were on the team in school had been abandoned. But maybe that is what Feldman wanted us to feel.
S2N - I do wish I knew more about how the coaches balanced the recruiting focus with the need to game plan every week during the season. LSU is the beast to beat — both for Orgeron personally as someone who grew up a Tiger fan, and as a coach.
UM - That's why I think I'd really enjoy a book that combines the two. After seeing how much effort goes into targeting and wooing recruits, it's hard to imagine having time to gameplan for South Carolina.
And before I forget, the cockfighting story was one of my favorite passages in the book, especially Orgeron's reaction, both to the recruit's family and to Feldman.
TSW - The whole passage on Ian Williams that ended Chapter 11 just broke my heart.
TSW - What did you guys think about how much (and sometimes how little) stock the coaching staff put into the coverage from Rivals and Scout?
UM - Modern coaches might hate the internet but the great recruiters know how important a site like Rivals can be when tracking a player (even if the star system is totally arbitrary). What I found laughable were the fervent fans plastering a player's MySpace page with comments telling him how great he'd be on their team.
TSW - No crazier than people showing up at a diner to tell a kid how great he'd be at their school.
S2N - Well, as Feldman noted in the beginning, college football doesn't have the advantages college hoops does when it comes to the top recruits. So, that sort of love/hate relationship with the recruiting sites is a must. What I thought was interesting was how Orgeron (and I suppose other college coaches would do) basically discounted a lot of the information (height, weight, 40 times) unless someone on his staff actually got to measure it.
The MySpace and blog comments in the Tampa Trib for Stephen Garcia were great. How far can you go on these things?
UM - I was surprised that the subject of negative recruiting didn't come up more often. It's obviously going on in college athletics (especially SEC football), but Feldman only mentioned it in passing. I would think that when Ole Miss was going up against the LSU's and USC's of the world that negative recruiting would become a big issue for Coach O to overcome.
Well maybe not from USC's side, given Orgeron's relationships there.
I wonder what Mississippi State said or did to get Elliot out of his commitment. I bet it wasn't flattering towards Ole Miss.
S2N - Negative recruiting kind of gets short shrift — but it's there as far as going against Ole Miss, particularly the rumors about Orgeron's caveman persona (which the Rebs' coaching staff thinks comes from either Memphis or Tennessee.) But Orgeron, when it came to USC, wouldn't do it himself — he refused to talk shit about Pete Carroll to Joe McKnight; maybe that's respect for a friend and former boss.
I think MSU talked Elliott out of his commitment because Ole Miss felt like it was in the hunt for Joe McKnight — maybe they used the "they're taking you for granted" angle.
TSW - Since I know that neither of you are from SEC schools, I have to ask you this - Did you find yourself rooting against LSU while reading this book? (Conversely, I would imagine if you were a LSU fan you'd be saying to yourself every other page, "Damn right everyone wants to be a Tiger.")
UM - I'm a Florida fan since way back when, so anytime LSU loses out on a player I'm happy.
I expected to see a bit more recruiting from the current players themselves. Feldman made references to committed high schoolers trying to woo the remaining available players, but there was nothing about players helping in the process. When you've got high profile guys like Oher and Patrick Willis it makes recruiting quite a bit easier. I found myself wondering why Feldman hadn't spoken to them about fostering relationships with recruits.
S2N - I'm curious to see what you guys think about the juco/military academy system, especially with regard to Jerrell Powe.
UM - The NCAA has done a better job in recent years of shutting down the notorious diploma mills, but places like Hargrave certainly serve a purpose. It may not seem like the most kosher of systems to those of us who went through a more traditional high school experience but prep schools are able to help both the students and the colleges they will eventually attend. Sure, Korleone Young made a dumbass decision, but typically the school proves beneficial for the "student athletes" and the college programs that are recruiting them. Obviously in a case like Powe the system is just a complete failure and nobody is around to regulate it.
TSW - The Powe case was incredibly sad to me just because it felt like he'd been yanked from place-to-place on nothing but promises.
I had only a cursory knowledge of the number of online courses recruits could take for admission to college, so for me it was a little bit of a shock to see how... "easy" is not the word the word I am looking for, because obviously the education system had failed these kids and any sort of schooling was not going to be "easy" for them, but maybe how readily available this "out" of junior colleges, online classes and military schools were for recruits.
This is not to say they are not without merit. Feldman was wise to give examples of student athletes who turned their academic careers around in the right system.
TSW - I hate to be the woman who brings this topic up, but since we covered negative recruiting, I thought Feldman was pretty even-handed when talking about the Ambassador Program at Ole Miss. (Even though it seem to be spitting-hairs to differentiate where their program diverged from the Texas Angels and the Bulldog Belles.)
It just struck me that the harshest thing said about any of the schools came from one of their own Ambassadors who said, "Around here, the real head turners are the ugly ones."
UM - As long as they aren't providing lap dances (or promises of lap dances to come) then I see no harm in the female hostess program. It's good training for their future careers as pharmaceutical reps.
TSW - Oh, I'm not against it either. Feldman could have been much more critical of the tactic, and I thought it was very fair of him not to judge. (Disclaimer - Texas Gal from Ladies is a former Texas Angel, and I cannot think of a better, more knowledgeable sports booster than her.)
TSW - So do want to wrap this up and let the readers discover the tension of Signing Day - which I thought Feldman brilliantly captured - for themselves?
UM - If we're wrapping it up, I'd like to see an epilogue added to the book.
S2N - I'm fairly sure the majority of the people participating in the commentariat will have read the ending. I don't sense there's too much to spoil.
I don't know why, but despite the obvious knowledge that Joe McKnight would end up at USC, I thought Ole Miss had a legit shot at him — or at least were delusional enough to aim high and think they had a legitimate shot at him.
TSW - I felt like Ole Miss had a legit shot at any player not from Louisiana. That is the appeal of Orgeron, he was the ultimate salesman.
S2N - I should state that I enjoyed this book a whole lot — I'd not read a whole lot about recruiting in college football, and the look inside the process was fascinating, even the semi-questionable parts and the whims of teenage boys.
I just had to laugh when Robert Elliott signed with Mississippi State mostly because he wanted his No. 2 jersey.
Coach O could probably sell us all the bridge, and we wouldn't feel like we'd been cheated.
TSW - Honestly? I felt bad that he had lost his job this past season after reading Meat Market.
It really was a great, quick read. Something I could easily see someone inquiring about Meat Market's book rights (and the life rights to Orgeron) because it would translate well into film.
S2N - If the Orgeron did not exist, we would have to invent him. It would make a great movie.