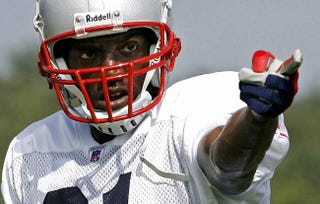 So, now the Randy Moss restraining order story has gone "mainstream" — which is different than it going "legit" — what's the deal with it? What's the story? And does it have legs? And by "have legs," we mean, "will it sufficiently disgust Joe Buck?" Here are the papers.
Here are the details. Apparently, Moss committed "a battery upon (Washington) causing serious injury. (Moss) refused to allow (Washington) to seek medical treatment." Though the real "bombshell," if there is one, is when (Washington) — her given name does not have parentheses — says that she has been in a relationship with Moss since 1997 and that he has "a drug or alcohol problem." You call that a problem?
Moss was sort of ambushed with the question at a morning locker room news conference, which is why his reaction was so strange.
At Gillette Stadium this morning, Moss addressed the allegation, saying he's "never laid a hand on a woman in 30 years."
You know, NFL groupies just aren't as proficient as they used to be.
That said, he's out front of the story. Smart.