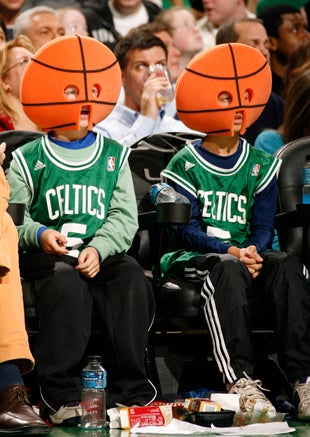 The NBA Closer is written by our Canadian weekend maestro J.E. Skeets. When he's not busy scouring the box scores or partying with Corey Worthington, he can be heard on The Basketball Jones daily podcast.
• Where Creepy Merchandise Happens. First of all, I should probably point out that these two Celtics fans are indeed NOT paraplegic. Those are cup holders, folks. It took me a few hours to figure it out, too. Ray Allen scored a season-high 35 points and Kevin Garnett chipped in a cool 26 to help Beantown beat the visiting Blazers 100-90. The C's had lost three of their last four games and two straight at home. But they're back! Watch out, '96 Bulls! Brandon Roy led the Trailers with 22 points.
• It's The End Of The World As We Know It. Water? Check. Canned food? Check. Flashlight? Check. Manual can opener? ... MANUAL CAN OPENER!?! Shit! Four minutes, forty-eight seconds. We're all dead. Starvation. Jamal Crawford scored a season-high 35 points and hit a tie-breakin' 3-pointer, leading the Knicks to a 111-105 victory over the Nets. Zach Randolph added 24 points and 11 rebounds for New York, who won their third game in a row for the first time in over a year. Half Man Half Amazin', Vince Carter scored 26 in the loss. (Half Man Half Tree, not impressed.)
• Put The Brooms Away. Now lean back, lean back ... Gerald Wallace had 36 points and 14 boards to help the Cats upset the Magic 99-93. Jason Richardson, who scored 26 points, hit a 3 with the shot clock running down with 30 seconds left as Charlotte avoided the season sweep. "That's big for us. It shows a lot of growth," J-Rich said. "This team is growing every game." It's true: Raymond Felton is like, 8-feet tall.
• Welcome Back, Bitches. Chris Bosh scored 31 points, shooting 11-for-12 from the field and 9-for-10 from the line, as the Raptors spoiled Mike Bibby's season debut, beating the Kings 116-91. Ron Artest also returned after missing nine games because of elbow surgery, but was held to just 4 points. To add insult to injury, Bosh then sold them a used '94 Taurus.