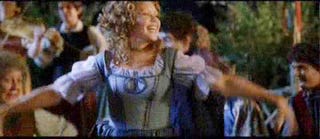 Jonah Keri writes the college basketball closer (more or less) daily. E-mail your questions, comments or Clarence Ceasar-related memories to jonahkeri@gmail.com.
Return to the Scheyer. Duke's hobbit-like swingman potted 16 points in the first half and 21 in the game, as No. 7 Duke rolled over Florida State 70-57. OK, Scheyer's skinny frame and crazy facial expressions probably make the whole Lord of the Rings comp a bit of a stretch. But we'll use any excuse to link to cheesecake shots of Rosie Cotton. As for Scheyer, he's emerged as one of the best sixth men/M.O.T.s in the country, after starting last year as a freshman. He's also the author of a famous high school performance, in which he scored 21 points in a span of 75 seconds. Plus Scheyer's creative shot-making last night was almost enough to make you forget about the horrendous charging fouls called on FSU in the first half, the flops by Nolan Smith and Taylor King being the most egregious since...the last time Duke played. (Ed. Note: More on this later today.)
900. Congratulations to Bobby Knight for winning his 900th career game. The General turned the trick against No. 10 Texas A&M, the third straight time the Red Raiders knocked off an Aggies team ranked in the top 10. Knight's trademark man-to-man defense befuddled A&M, which shot a season-low 34 percent from the field and committed a season-high 20 turnovers. The real winners here? O'Reilly Auto Parts.
Peacock, in the dining room, with the candlestick. I was all set with the elaborate Clue references, but Zach Peacock ruined it by missing twice in the final seconds, as North Carolina hung on for an 83-82 win over Georgia Tech. The Yellow Jackets threw a huge scare into the Heels, though, despite 27 points and 11 rebounds from Tyler Hansbrough. Peacock in particular put in a great showing, putting up 14 and 11 in just 21 minutes. Oh what the heck, here's your Eileen Brennan fix.
Temple of Doom. Conjuring up the ghosts of Mark Macon, sub-.500 Temple smoked No. 20 Xavier 78-59. Dionte Christmas counted 19 of his 23 points in the second half, while Mark Tyndale added 22 for the Owls. That's the same Temple team that lost to the mighty Charleston Cougars. It's A-10 madness!
Predictions. I picked Florida to beat No. 18 Mississippi by four and UMass to score its own road upset over No. 14 Dayton by two. Not bad, all things considered. The Gators rang up 53 points in the second half, coming up just short in an 89-87 loss to Ole Miss. The Minutemen had better luck, as five players scored in double figures en route to a huge 82-71 win at Dayton. The question isn't whether the A-10 can get four teams into the NCAA tournament. The real question is, can St. Joseph's or another upstart make enough noise to make it five bids?
No. 6 Tennessee 82, No. 16 Vanderbilt 79. I am off-the-charts excited for this game. The two teams' combined 30-2 start and Vandy coming off its double-OT loss to Kentucky raise the stakes for what's always a fun intrastate match-up even when neither team is in the Top 15. I like Tennessee's pressure defense and loaded backcourt to be just enough to overcome Shan Foster and A.J. Ogilvy. Because this game's on ESPN2, we won't get a repeat of Gus Johnson's giddy Saturday performance, which is a damn shame. Billyball, HA-HA-HA!
Louisville 69, No. 13 Marquette 65. I love Marquette's three-headed backcourt so much that I made the Golden Eagles my token bizarro Final Four pick. Meanwhile, the Cardinals have been a different team lately with Derrick Caracter, David Padgett and Juan Palacios back. I don't trust a team with Edgar Sosa at the controls in March. But for mid-January, with Louisville at home, the Cardinals look good.
Record: 6-5
Results within five points: 1-10