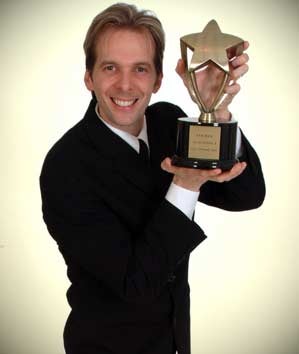 From the file of outstanding internal ESPN documents, here's a fun little one-off. It's a memo called "Studio Monthly: The Studio Production Newsletter," which is meant as a morale booster for ESPN employees. And our morale is boosted just looking at it!
It documents new hires, intramural sports teams, classified ads and even tells the tale of the hard-liquor-less holiday party last month. We think it's funnier to read this when you imagine it being said aloud by Michael Scott. Also: It has bylined writers. Now that's a fun job!
Enjoy, after the jump.
————————————————-
Hello Deadspin,

I thought you might enjoy this piece of ESPN internal morale. It's been said many times that management allows everyone to act like high school kids, well now they've started a newsletter that reminds me of my old high school newspaper. It's a glorious combination of intentional and unintentional comedy (although the intentional comedy is funny for unintentional reasons). It makes me sad that this is the best we can do.

Sincerely,
Bristol Informant

P.S. I edited out the pictures and e-mail addresses (to protect the innocent), but I left in the newsletter's own e-mail address because, well, that inbox will probably need some Deadspin contributions.




STUDIO MONTHLY
The Studio Production Newsletter
January 15, 2008
Who's Then: Catching up with a former member of Studio Production
This Month: Mark Capalbo
Interview by Etan Harmelech
Q: Tell the readers a little bit about yourself.
A: I am 29 years old, originally from Smithfield, Rhode Island. I went to Ithaca College, and am currently an Associate Producer for HBO Sports.. I left ESPN in July of 2006 when I was a highlight supervisor after starting as a PA in June of 2000.
Q: What is a typical day at work like for you at HBO?
A: I work pretty normal hours, 9-7ish Monday-Friday, although I still work the occasional weekend here and there.
I'm doing a bunch of different things and there really is no typical day. I produce a lot of the sports content for all of HBO Sports' New Media platforms, like HBO on Demand, iTunes, HBO Mobile, HBO.com. When I started, HBO was just getting involved in New Media, so there were basically just two of us working in this area. But things continue to expand by the month and our staff has gotten a little bigger.
Q: What was your best, favorite, or funniest memory at ESPN?
A: My best memories are of traveling to Super Bowls and the Pro Bowl for NFL Countdown.
Funniest Memories:
1) A PA telling me that I ruined his Christmas Eve because I gave him a shotsheet error - epic
2) Tom DeCorte colliding on the basepaths with my buddy John Schippman in a softball game and Schippman being on painkillers for months because of it (only at ESPN)
3) A near-brawl in screening over whether the 2000 World Series would end in five games or six
4) Seth Brody in a full sprint around DC Screening, chest bumping anybody in site after UCONN tied the game at the buzzer against George Mason in the '06 NCAA Tournament — As we know, George Mason would win the game in OT
Q: Do you still watch ESPN from time to time? Any particular show catch your eye?
A: I still watch ESPN all the time, I really enjoy watching ESPNEWS. Give me the highlights, give me the scores, and move on.
Q: Have you seen the new "American Gladiators"?
A: Haven't seen it — is Paul Dunn a contestant?
Q: What do you miss most about Bristol? What do you like most about living in New York?
A: My serious answer is the relationship I had with the people I worked with. When you work those types of hours and days, you develop a unique bond with your co-workers — I really do miss that. Some of my closest friends are people that I met in Bristol and many of us still keep in touch today; I am very thankful for that. I also miss teaching the PAs and seeing them grow, that was a rewarding feeling.
My joke answer is PA pizza, Applewood Diner, the 'Monts', the pool at Huntington Woods, driving home at 4 am in a massive snowstorm, Jeff Brantley's mullet, rolling on feeds.
The things I like most about living in New York are the proximity to my family and friends and the people-watching.
Q: What's the water cooler talk like at HBO?
A: Water cooler talk at HBO revolves around sports but not to the extent as ESPN — there are no mentions of the words: sick, viz, sick viz, ssm, tease me, bump me, love me, top play nominees, story ideas, parking in visitors' spots, kept, not kept.
Most people at HBO are like most people in the country right now — they hate the Patriots. I remember 2001 when everyone was rooting for New England in SB XXXVI, how times have changed!
Whom to Watch For: Keep an eye out for these new hires
Interns
Cole Cruz is from Illinois and attends the University of Illinois at Urbana-Champaign. He will be graduating this May after earning a B.S. in Recreation, Sport & Tourism: Sports Management. He is a member of the university's intramural policy board, which develops rules and regulations for intramural sports. Cole also coaches varsity and junior varsity high school basketball. Start Date: January 28.
Jon Downing is from Brooklyn, N.Y., and studies Sports Management at York College of Pennsylvania. He is scheduled to graduate this May. Jon is an on-air personality at the college's FM radio station, WVYC 99.7. Jon also was a sales and marketing intern with the New York Islanders this past summer. Start Date: January 28.

Talent
Prior to joining ESPN, Anish Shroff was well-traveled as a sports reporter. He worked in that capacity for WSYR-TV (ABC) in Syracuse, NY; KNDO-TV (NBC) in Yakima, Wash. ; College Sports Television in New York; and WHEN, Clearchannel in Syracuse. Start Date: January 1.
Before coming to ESPN, Reischea Canidate had been employed as the weekend sports anchor at WNYW in New York; KSWB in San Diego; and KJEO in Fresno, CA. Start Date: February 4.
News Editor
Tricia Rongstad most recently worked as the assistant sports editor at The Columbus Dispatch before joining ESPN. She has held a number of positions at the Arizona Republic, including assistant sports editor, sports copy desk chief and copy editor. She also worked at the Peninsula Daily News in Port Angeles, Wash., as a sports editor. Start Date: February 4.
Honors and Awards: Recognizing Achievement
The New York Festivals International Television Broadcasting Awards recognize "The World's Best Work" in news, documentary, information and entertainment programming as well as in music videos, infomercials and promotion.
This year, in the Human Interest feature category, which is not a sports category, SportsCenter features swept the medals, winning Gold, Silver and Bronze:
· Gold: "The Fugees" - produced by Dan Arruda and reported by Chris Connelly.
· Silver: "CIA Climbers" - produced by Miriam Greenfield and reported by Jeremy Schaap.
· Bronze: "Addict to Ironman" - produced by Jose Morales and reported by Tom Rinaldi.
* SportsCenter's Andrea Jaeger feature, produced by Martin Khodabakhshian and reported by Tom Rinaldi, was a Finalist in the Human Interest category. The "My Wish" series, which won the Gold last year in the Sports Special category, was a Finalist in that category this year.

Intramural Sports Live: An inside look at ESPN intramurals
2007 IM Super Bowl - We are Not Marshall vs . Hustle and Throw
By Simon Baumgart
November 14 was a cold, blustery, wet day; not ideal football weather. But that didn't matter because the ESPN Flag Football Intramural Super Bowl was going to be contested at the comfy confines of the FSA indoor facility in Farmington, Conn..
It was any flag football fan's dream match-up, featuring We Are Not Marshall (8-3) vs undefeated, untied "Hustle & Throw" (10-0). It might as well have been New England vs Dallas. The quarterback match-up was reminiscent of Brady vs.Romo, pitting Heisman front-runners Ryan Bartlett and Bobby Johnson against each other in just their second meeting of the season.
More shades of Patriots-Cowboys: Hustle & Throw won the teams' first game in a blowout, with Bartlett burning the We Are Not Marshall secondary over and over.. Early on, the re-match figured to be a much less one-sided affair. Marshall received the ball first and after a long completion by Johnson, was threatening at the goal line. But Hustle & Throw CB/WR Chris Burns stepped in the way of an errant pass by Johnson and returned it the full 60 yards for the score, pacing the men in the pastel blue jerseys to an early lead.
"That took care of the hustle, and Ryan Bartlett took care of the throw," said Daniel Presser, one of Hustle's top receiving threats.
Bartlett had "taken care of the throw" very well throughout the regular season, tallying 37 touchdowns against only one interception, of which Bartlett said, "It was pouring rain and I made a terrible throw."
Although Bartlett had struggled in the playoffs (by his standards), throwing two interceptions in a double-overtime victory against With Ourselves, he had a history of putting up better numbers indoors. And on that Wednesday morning, the dome again proved to be friendly indeed.
On the turf of the FSA, Bartlett utilized a quintet of talented receivers (Matt Smith, Nick Steger, Brian Bourque, Burns and Presser) connecting with all of them on at least one touchdown strike. Steger, as he had all season, proved to be one of the league's most dynamic threats by completing the "Tomlinson Trifecta" as he ran, caught, and passed for scores.
We Are Not Marshall, however, was no slouch, staying within one-to-two touchdowns of Hustle for most of the way. Hustle & Throw even yielded its most points of the season, the majority to Marshall's lethal connection of quarterback Bobby Johnson and wide receiver Jason Paradise. But LB Brandon Moore, named the league's best pass rusher by voters, wreaked just enough havoc to stop Marshall on a few early possessions, giving Hustle the cushion it needed to hold on for a 62-54 victory.
Hustle & Throw smartly took a knee on the game's final possession, averting a repeat of last year's championship game. In that contest, Hustle & Throw held the ball and the lead in the game's waning moments. But much like the Patriots, Hustle tried to run up the score by going for one last touchdown, leading to a crucial turnover that cost the team the 2006 crown. There would be no such mistake in 2007.
Although Marshall quarterback Bobby Johnson took home the league's coveted Heisman Trophy, Bartlett left with the better prize; six touchdowns, zero interceptions, and the championship trophy, which he cradled in his arms as he slept that night.
Indoor Basketball - Cross-a-Fella 56, The Program 50
By Etan Harmelech
Playing in what was billed as the "Game of the Century", Nigel Williams scored 24 points, including the go-ahead three-pointer to lead Cross-a-Fella to a 56-50 victory over the Program on January 8. Rob Villanueva added 17 points for Cross-a-Fella, which has not lost since the team's inception in the summer of 2006, a run that has included back-to-back championships. Ka'Ron Barnes scored 19 for The Program in a losing effort.
An announced crowd of 47 at the Bristol Boys and Girls Club saw a game that managed to come close to living up to its massive hype. With just more than two minutes to go, it looked as though Cross-a-Fella's streak of 21 consecutive victories (incl. playoffs) might come to an end.
Leading by three points with 5 minutes remaining, Cross-a-Fella caught a huge break when an errant Yaw Ofori-Atta jumper was tapped into the hands of point guard Nick Steger who calmly drained a three-pointer from the wing to give Fella a six-point cushion.
Then Barnes took over. On consecutive possessions, The Program's leading scorer and MVP candidate knocked down a three-pointer, fed a cutting Adam Stanco (6 points) for an easy transition lay-up, and hit a lay-up of his own to give The Program a one-point lead with just over 2 minutes to play. The crowd surged to its feet, willing to sacrifice comfort for a fleeting glimpse of history.
"I really thought they might beat [Cross-a-Fella]," said Bottomline's Sulaiman "Sly" Folarin.
But with Barnes guarding him on the ensuing Cross-a-Fella possession, Williams dribbled down the floor, pulled up, and banked in a three-pointer that gave Cross-a-Fella a two-point lead and hushed the highly partisan crowd.
After a Program miss and two free throws by Steger at the other end, The Program had one more chance when Barnes stole a pass with 45 seconds left, dived to the floor and found Al Black slicing to the hoop. But the normally reliable Black missed the easy lay-up and The Program's fate was sealed. Down nine points in the waning seconds, Greg Grady hits a meaningless three-pointer to narrow the final margin of victory.
The first half was a back-and-forth affair in which both teams looked tentative, weighed down both by the hype surrounding the game and a lengthy layoff necessitated by the holiday season. Villanueva set the pace early, scoring three quick baskets, two on put backs. He routinely abused Grady inside, dominating perhaps the most anticipated clash of big men in EBA history. After one contested lay-up dropped in to surge Cross-a-Fella to an early four-point cushion, Villanueva let loose with a primal scream and pounded his chest with his fist.
But super-sub Todd Kapostasy kept The Program close, reeling off 9 first-half points on 4-4 shooting. Cross-a-Fella seemed to have no answer on defense for Kapostasy, who repeatedly drove past the larger and slower Cross-a-Fella wings like a destroyer outmaneuvering a battleship. With Kapostasy and Barnes doing the bulk of the scoring, The Program trailed 26-25 at the half.
But in a curious move, The Program's veteran coach Kyle Turpin used Kapostasy sparingly in the second half, tightening his rotation down the stretch. Kapostasy failed to score in the second stanza, and Stanco, Barnes and Grady played the entire 20 minutes. Yet if not for a favorable Cross-a-Fella bounce, the outcome might have been very different.
"I told Nigel, that bank shot was a late Christmas present," said Cross-a-Fella's Fred Coleman (DNP-CD). "He doesn't hit that, it's a whole new game."
With 11 seconds left and Cross-a-Fella decidedly in control, Ben Riegel entered the game to a thunderous ovation from the crowd. Although Riegel's impact on the game may not have shown up in the box score or the stat sheet, the emotional lift he provided to his Cross-a-Fella teammates proved invaluable.
With both teams likely to make the playoffs, the real takeaway from this game was that Cross-a-Fella had been pushed to the limit, and that The Program could seriously threaten to disrupt the champions' quest for a three-peat.
"I look forward to seeing them again," said Stanco. "This time in the Championship."
Life on the Road: A trip to Baltimore with Kevin Stewart on MNF remote
By Courtney Minifee
A free flight out of Bristol, a live sporting event, a per diem, and a swank hotel - that's what many think life on a remote is like, but there's more to it than that - like work. I caught up with Kevin Stewart, fresh off his first time on the road with ESPN and the Monday Night Countdown crew. He took time out of his busy schedule to sit down with me in the Digital Center to share his experience on working at the Patriots-Ravens game in Baltimore.
Q: What did you do to get ready?
A: I didn't know how to book my flight. They told me to take care of it myself. So I booked it on Orbitz. It ended up not being a problem; I think I actually ended up saving the company money. But I earned a nickname, the producers started calling me "Orbitz".
Q: I also heard you didn't know what to wear.
A: Yeah, Jason Roy told me to be sure to bring a pair of khakis. I went out the Friday before [I left] and picked up a pair. I hadn't had to wear khakis in years.
Q: What did you do while you were in Baltimore?
A: Sunday we got up and watched the games before going in; I still didn't know what I'd be doing. But I was in the truck; it's underneath the stadium in the same tunnel the Ravens come through. I walked out onto the field and I was thinking about Ray Lewis and you know how he gets fired up. I was thinking to myself: "I just want to strap on a helmet. This is so amazing."
Q: What about on game day?
A: Monday I got there at about 1 p.m. I was building topic bars and name fonts. I was in the office, in this room with Emmitt Smith, Steve Young and the reporters; I was starting to feel important. So, I'm on my phone trying to figure out who to call so I could look like I was doing something and this bus pulls up with two police cars. It was the Pats. Did you know Belichick comes to the game in a suit? It's funny. And then there was Brady and Moss and Seymour. I was kind of star struck.
Q: What'd you do during the game?
A: I got back in the truck, fonted the show and then the show was over. We went and ate, I bought a Ravens shot glass — I collect those.
Q: After the game?
A: After the game was kind of crazy. We had to build all these different topic bars. I was starting to feel the stress, but everything worked, we got it all in there. And then just like that it was over.
Q: Any advice about traveling on remote?
A: Don't book through Orbitz is one. Use the travel link, which is on the portal. Enjoy it, appreciate it. I got to see the Pats and everything. I kept telling myself, 'This is pretty cool, and I get paid for it.' I would've done it for free...don't tell people that, because then they'll stop paying me.
Classifieds
Monthly studio production newsletter seeking talented writers and web designers. No experience necessary, salary is negotiable. Please contact ****** if interested.
Buying or selling? Submit your classifieds to Studio.Monthly@espn.com
Plays of the Month: Under-the-radar productions that caught our eye
This Month: Highlights; Next Month: Bumps
By Kyle Turpin
Jazz/Bobcats (Produced by Devin Kragh, Supervised by Jason Brooksby, Managed by Paul Dunn)
On December 12, Devin Kragh walked into screening, looked at the Proc Sheet and saw his name beside Jazz vs. Bobcats. While logging his event, Kragh noticed something that should have been identified years ago...Gordon Giricek is not a very good basketball player.
This theory was evident when Giricek failed to defend Jason Richardson on a routine lay-up. Evidently, Jerry Sloan was fed up with Giricek, so he literally sent Giricek to the locker room in the middle of the game. The video was great; TBU definitely should've bumped it.
Kragh also noticed there was good sound from Carlos Boozer's father during a halftime interview on the telecast. Boozer Sr. said he used to tie Carlos's right arm down to improve his left-handed shooting. Kragh played off of that theme by showing Boozer make a lefty lay-up. Moments later, Boozer missed a left-handed dunk. It was a very creative sequence.
Kragh was pleased to be nominated for a "Play of the Month".
"I am seldom honored. My reaction was equal parts shocked, baffled as to how; and ultimately very happy," Kragh said. "There are so many great highlights made in screening every single night, it's hard to fathom how mine was chosen. Most of my prior achievements involve youth soccer participation trophies."

Penguins/Flyers (Produced by Jen Kosky, Supervised by Tom DeCorte, Managed by Paul Dunn)
Going into her game, Kosky knew that the Penguins-Flyers contest was an in-state rivalry game between two physical teams. She also knew they were tied for 3rd in the division and that Sidney Crosby would show up in the highlight at some point.
Although Crosby was the main attraction, the Flyers tandem of Joffrey Lupul and R.J. Umberger stole the show. Kosky started her highlight with a factbar of Crosby having one 6-point game in his career. Then, she cut to an iso of Lupul (foreshadowing at its finest). Umberger had a Hat Trick in this event, but shockingly, was not the focus of the highlight. Lupul actually had the first 6-point game of his career (I told you that foreshadowing thing works every time).
With the Flyers leading 6-2 and the match getting somewhat out of hand, Kosky decided to focus on a particular fight between 41-year-old Gary Roberts and 23-year-old Ben Eager. It was entertaining to see the two generations duke it out. The talent had fun with this section of the highlight, and the two teams combined for 156 penalty minutes in the match.
Kosky turned what was supposed to be a 30-second highlight into a 97-second masterpiece. According to Kosky, "Often, all you see [from Hockey highlights] is goal, goal, goal. Hockey is much more than that." After watching this highlight, I believe her.
Suns/Lakers (Produced by Jarred Schiff, Supervised by Dan Bramlette, Managed by Missy Motha)
Jarred Schiff's Suns/Lakers highlight had dunks, SOT calls, replays, analysis and a Christmas Card effect. Here's how the 2:17 highlight came about, in the words of Jarred Schiff:
"I talked with my Hi-Supe, Daniel, and we decided [to have] some fun with the Trevor Ariza dunk early on in the game. We wanted to create a poster effect, but give it a Christmas feel, so we came up with a Christmas card idea for the dunk. The control room created the card, but Kyle Kebert helped by animating the video inside of the card to really make it work. With the SOTs I used, I was just trying to have some fun with the highlight," Schiff said..
Schiff's highlight was not only fun, but informative as well. The SportsCenter Control Room built a "Bryant vs. Bell" Transition, which allowed Schiff to illustrate how Kobe Bryant is virtually un-guardable. During the last three possessions of the 3rd Quarter, Bell stripped the ball from Bryant and felt pretty good about himself. On the next possession, Kobe drained a deep three-pointer in Bell's face. Moments later, Bryant blew past Bell for one of the most athletic dunks I've seen in a while. Two replays needed for that one.
Schiff also used telecast SOT from Jeff Van Gundy. After Ariza missed a three-pointer, Van Gundy said that Ariza needed to step in closer for a high-percentage basket. The next possession, Ariza drove from that same corner and slammed it home.
All three Production Assistants did a great job of turning ordinary events into extraordinary highlights. Keep up the good work and congratulations.
Inside the Aqua Turf: Dispelling some myths about the Holiday Party
By Etan Harmelech
Despite a driving snowstorm that dropped 3-6 inches of snow on the Bristol area, about 2,000 ESPN employees braved the elements to arrive safely at the ESPN Holiday Party at The Aqua Turf Club in Plantsville on December 13.
Although the number of party-goers was down from the 3,200 who attended last year's event, or the estimated 3,600 who made the trek to the Aqua Turf in 2005, when Chaka Khan performed live, this year's party still had party-goers talking for days.
One difference noted by many ESPN employees was that bartenders served only wine and beer - no hard alcohol. Although rumors leading up to the party painted a grim picture of a system that would distribute two drink tickets per person, with each subsequent drink purchased from a cash bar, that was simply not the case. This was a true open bar, albeit a limited one.
"It was ESPN's decision to limit drink options," said Aqua Turf manager Michael Aberg, 52, who has helped orchestrate the event for the last 14 years. "The company wanted a safe and responsible holiday experience for everyone this year."
It was also for safety reasons that the buses from New York were canceled, says Aberg, further contributing to the low attendance figure. "There were going to be anywhere from 200-300 people on those buses," Aberg said.
The ESPN holiday party is still far and away the largest event the Aqua Turf hosts, and Aberg said that this year's bash featured a number of new elements. "The [Nintendo] Wii console was a popular new addition this year," said Aberg. "People were lining up in the game room to play it."
Although attendance may have been less than anticipated, the relatively small turnout did have one significant positive impact. "There was plenty of room for everyone to get to the food stations and bar stations," said Aberg. "No bottlenecks this year."
Holiday Party Superlatives
Best Dressed - Leslie Wymer, Hi-Supe, 2-time winner ('05)
Best Dancer - Sandro Colaccico, PA
Best Voice - Karl Webb, AP
Best Game (Old School) - Air Hockey
Best Game (New School) - Wii Tennis
Have questions or comments? Want to submit a letter to the editor? Let us know at studio.monthly@espn.com