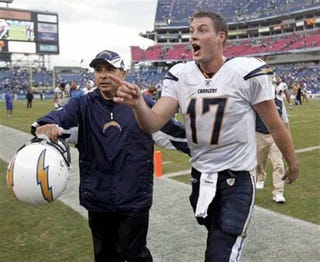 Everyone's all excited and a-twitter about the potential matchup of the Patriots and the Packers, Tom Brady and Brett Favre, that they're looking past the most enthralling quarterback faceoff of all: Eli Manning vs. Philip Rivers. Now that would be something to see.
Not only would it bring back all those flashbacks to the 2004 NFL Draft, but it would be essentially break down everything we think we know about quarterbacks in the Super Bowl. Trent Dilfer winning is one thing; Rex Grossman starting the most important game in the NFL is one thing. But Philip Rivers vs. Eli Manning? In the Super Bowl? And it could happen!
That couldn't be a happy day for FOX, we wouldn't think. But it would be fun for people who like to see people slip on banana peels and be hit in the groin with whiffleball bats. And Rivers, man, he'd be a trip on Media Day, wouldn't he?
Probably not gonna happen. Hopefully won't happen. But could happen.