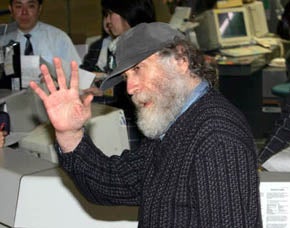 "What is chess, do you think? Those who play for fun or not at all dismiss it as a game. The ones who devote their lives to it for the most part insist that it's a science. It's neither. Bobby Fischer got underneath it like no one before and found at its center, art." — Searching For Bobby Fischer. Robert James Fischer was equal parts genius and raging lunatic; icon and iconoclast in the same tightly wound package. And he was quite possibly the most intriguing personality of the Cold War period of the 1960s and '70s. Talk about your anti-heroes; Barry Bonds is a pipsqueak when placed beside this most irascible of coots. Fischer died on Thursday in a Reykjavík, iceland hospital due to an undetermined illness. He was 64.
Born in Chicago and raised in Brooklyn, Fischer was a U.S. chess champion at 14 and a grand master at 15. He beat Russian Boris Spassky in a series of games in Reykjavik to claim America's first world chess championship in more than a century. But his reputation as a genius of chess soon was eclipsed by his idiosyncrasies.
Fischer played in eight United States Chess Championships, winning all of them. But he is best known for beating Spassky in their World Championship showdown in 1972; capturing the public imagination by becoming the first U.S. world champion, winning 11 games against the favored Spassky after dropping the first two. He then refused to defend his title against challenger Anatoly Karpov in 1975, and pretty much disappeared after that; reappearing every decade or so to win a major event just to remind us of how great he was. Chess came easily for Fischer, but not so subduing his demons, which were legion. Although of Jewish heritage himself, he became a rather notable detractor of Israel in later life, and was criticized for ant-Jewish remarks he had made on U.S. radio call-in shows in the 1990s and 2000s.
"Bobby Fischer held the world in contempt," says the line by Ben Kingsley from the above-mentioned 1993 movie. The world did not return the favor. Even now it would surprise no one if this were all a hoax, with Fischer hiding out somewhere, laughing contemptuously at us all.