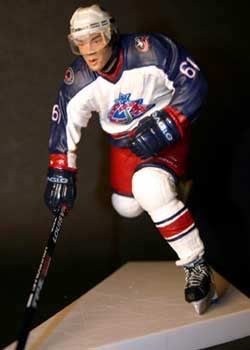 The NHL Closer is written by Greg Wyshynski, of The FanHouse and The Fourth Period. He is also the author of Glow Pucks And 10-Cent Beer.
If you haven't see Blue Jackets' star Rick Nash scoring the "eye-popping flurry of head fakes, shoulder shimmies and puck dekes" goal of the season thus far, you will after the jump. It's doper than dope, made even more so by virtue of having won Columbus's game against red-hot Phoenix, 4-3, with 22 seconds left. It was the kind of highlight that can never occur in an overtime skills competition because it was so spontaneous and involved defensemen playing, you know, defense. If the Edmonton Oilers/Washington Capitals' 12 rounds of yawn were Reason No. 1,488,098, Nash's goal was Reason No. 1,488,099 why the shootout can suck a dick.
Amazingly, Nash almost cost his team the game with a penalty late in the third, after which Martin Hanzal told Columbus to dere-lick his balls by scoring 77 seconds before the Goal of the Year to tie the game on the power play.
And then Nash earned redemption by adding Keith Ballard, Derek Morris and Mikael Tellqvist to his bitch list:
Obviously, it had everything to do with Nash's change in mouthpiece. The New York Times' Slapshot blog has a crisper copy of the goal via the NHL's annoying un-user friendly video portal, and dared to compare it to Ovechkin's Miracle on the same ice two years ago. Time will tell if Nash's goal is as career-defining at Ovie's, but one thing is certain: It represents everything that's right and wrong about NHL 2.0. According to Nash, Michael Peca's now-legal two-line pass set it up: "Pecs made a nice pass up and it was a 1-on-2. We had three guys back, so I figured I might as well try something." So without that rule change, we don't get this masterpiece. But as I wrote earlier, had it been a shootout, Nash would have been on another unimpeded, pedestrian breakaway in an increasingly anti-climactic gimmick. Which brings us to Edmonton and the Capitals.
Washington 5, Edmonton 4. These two teams played a fucking brilliant offensive game for three periods and the 4-on-4; fire-wagon hockey that made me rub my eyes and double-check that Messier, Coffey and Kurri weren't out there. And then the game ended in 12 rounds of the most repetitive and tedious boredom since "Frank TV" debuted on TBS.
If you took a shot of Jack Daniels every time someone missed the net, lost his edge or broke his stick in this shootout, you would have been face down in your own spew by Round 8. A thrilling team game was reduced to Donald Brashear in an undefended breakaway in Round 9. The game ended when Oilers defenseman Sheldon Souray was stopped by Olie Kolzig on a fucking slap shot into the chest from about 15 feet out. I guess that's better than the alternative, which was shitting in his own glove and throwing it at the goalie.
Of course, the irony is that no one would even give a right fuck about the Oilers this season if it weren't for the shootout, which is just another why the skills competition format is such a joke.
Puck Headlines
* The Five Rules for Being a Puck Bunny: "After watching their practice try to talk to a player as he autographs stuff. When he doesn't interact with you like he's your best friend, immediately tell all of your friends that something is going on between the two of you because he was acting strange." [SportsHubLA]
* Defenseman Kurtis Foster and goalie Josh Harding take us on a tour of the Minnesota Wild locker room, full of near-nudity and goofy fun. If you freeze frame just at the right moment, you might be able to see how Jacques Lemaire diagrams sucking the fun out of hockey. [Star Tribune]
* My buddies at Pensblog celebrate ABC's TGIF lineup as they break down ConkBlog's Hart Trophy candidacy. One word: Topanga. [Pensblog]
* Will Calgary's Dion Phaneuf, Nashville's Shea Weber and Ryan Suter and Ottawa's Andrej Meszaro get the Dustin Penner treatment his off-season? [Spector]
* The NHL returns to NBC this weekend. And although it appears that the Rangers could be on every Sunday thanks to "flex scheduling," there are limitations. [Times Union]
* Mic'd up players are fucking boring. [The National Anthem Before a Cubs Game]
* Great breakdown of the NHL's recent long-term mega contracts, including whether the Ovechkin deal is good or bad for hockey. And no, the only reason I think it's great isn't that it's overwritten. Puck Stops Here.
* Finally, my FanHouse buddy Japers reminds us that next Thursday is dollar dog night in D.C. against the Leafs. Olie Kolzig appears ready: