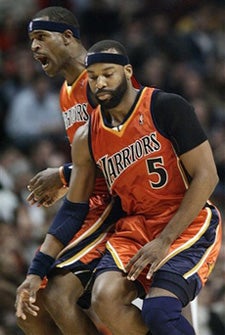 Baron Davis is simply filthy. Last night his 40 points (6/8 from three) carried the Warriors to a 119-111 win over the rudderless Bulls. Most of Chicago's firepower came from the bench, with Ben Gordon and Andres "Elbows" Nocioni combining to score 57 points. But hey, you try to look Thabo Sefolosha in those big sad eyes and tell him he can't start.
• Nobody make any sudden movements! Ron Artest returned to the Palace for the second time since the infamous fracas back in his Pacer days. He began the game on the bench along with Mike Bibby and Kevin Martin, but the three combined for 58 points in a win for Sacto. Check out the highlights from this newfangled website here.
• My new favorite sign. I already mentioned Washington's win over the Knicks and I showed you fantastic Fire Isiah sign, but I'd be remiss if I didn't show you the other side of that coin. If you're a fan of an Eastern Conference team (or any NBA team for that matter) other than the Knicks, then you simply have to agree with this guy's sign.