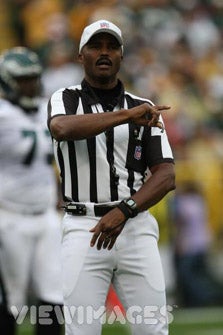 In 41 years the NFL has never assigned an African American to lead the Super Bowl's officiating crew, but now that's just history. Mike Carey was informed yesterday that he'd been selected to the prestigious position reserved for the best referee in the league.

Carey, in his 18th year as an official, was notified by the NFL office this week he had the assignment for the Feb. 3 game in Glendale, Ariz. The NFL will not officially announce the assignments until the week of the Super Bowl.

Super Bowl officials are chosen on merit, with the highest ranked at each position getting the assignment. Carey, who runs a skiing accessories company, has been among the NFL's top crew chiefs for a decade and has been a Super Bowl alternate, but has never been the referee.
I've maintained that Carey has been the best referee the league has had to offer in recent years (with all due apologies to the Ed Hochuli fan club) and it really is about time he got his due. This won't be the first time Carey has made history as an official. Back in 2005 he and Don Carey became the first brothers to officiate in the same NFL game.
Off the field Mike Carey has made a career for himself as an inventor of ski accessories, currently holding eight patents.
If anybody leaves a comment having anything to do with Martin Lawrence I'm going to e-kick you in the head. And by "e-kick you in the head" I mean that I'm going to track your IP address and mutilate your precious cat.