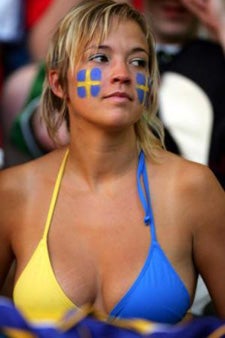 Brad Guzan took full advantage of his opportunity on the big stage. The young American keeper was outstanding in America's shutout win against a fairly well-stocked Swedish national team. Eddie Robinson earned his first cap at the age of 29 and capitalized almost immediately with the match's first goal. Future world-beater Jozy Altidore came on after the halfway point and made his presence known on his first touch.
The teenage striker created an instant goal-scoring opportunity when he shook loose in the penalty area only to be brought down before he could net his first international goal for the big team. Landon Donovan took over from there, scoring his record breaking 35th goal as a member of the USMNT with the penalty shot. Landycakes is now the nation's all-time leading scorer while wearing ugly ass orange boots that were probably provided from by Home Depot.
The team's next friendly comes next month against Mexico in a match that's sure to be a hell of a lot less "friendly."