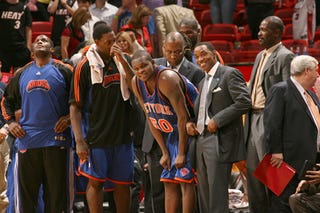 The New York Knicks were downright spectacular in their 88-84 win over the god awful Miami Heat. Isiah's bunch has now won three out of their last four games four out of their last five games and the boss is feeling pretty fuckin' good about himself. Check out the grin, the relaxed posture, and the general sense of self-confidence and be sure to remember all of it when he's praying over ping pong balls come April.
• Everybody's gonna score! Corey Maggette led the Clippers with 31 points, while five of his teammates contributed 10 or more in the Clippers 120-107 win over the Nets. For what it's worth, New Jersey also had six players reach double figures in scoring. Moral victories are fun!
• The one they call Half Man, Half a Season. Tracy McGrady's rust was apparent, but his long-awaited return was a big success in the end. The Houston Rockets defeated their in-state rivals the San Antonio Spurs 83-81. Yao led the way with 21 and 14 while Skip added 16 points to go with 6 assists. Timmy Duncan was stellar with 24 and 17, but aside from Tony and Manu nobody scored more than six points.
• Mama said there'd be days like this. Kevin Durant was slightly less than spectacular in yet another loss for the Sonics. The rookie scored just six points on 3-12 shooting with two rebounds in nearly 25 minutes on the floor. Dallas got the win over Seattle by a score of 111-96 behind 48 points off of the bench.