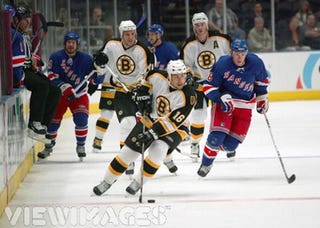 • Now! — Hockey: New York Rangers vs. Boston Bruins. Is it a rivalry if only 20,000 give a shit? [NBC]
• In Progress — Tennis: Australian Open. Be sure to let me know if anything interesting happens.
• 1:00 — Soccer:Atletico Madrid vs. Real Madrid. I took three years of Spanish in high school and I never even learned how to say "derby." Useless edumacation. [GOL]
More after the jump...
• 2:30 — Soccer: Inter vs. Parma. Instead of halftime orange slices they get prosciutto and melon. [FSC]
• 3:00 — Movie: State and Main. I don't know what her problem is. She takes off her shirt to do a voice-over. What's her problem? The country could draw her tits from memory. [FOX]
• 3:00 — Football: New England Patriots vs San Diego Chargers. FEEL THE VOLEKTRICITY! [CBS]
• 3:00 — WCBB: Oklahoma vs. Baylor. Yeah, that's the ticket. [ESPN2]