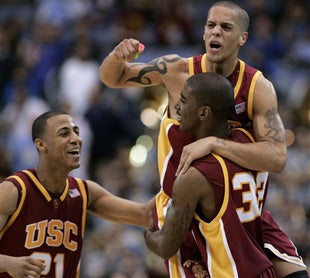 If somebody tells you that they have a read on this USC team then you should feel free to tell them that they are full of shit. Last night they came in to Pauley Pavilion and took care of business against a heavily favored UCLA team that couldn't get anything to fall (33% from the field). Aboya, Mbah a Moute, and Westbrook combined to shoot 3-22 and folks, that's not going to get the job done. USC was led by their other freshman, Davon Jefferson, who flourished with 25 points and nine rebounds. O.J. Mayo added 16 points and four assists.
• A&M's looking pretty crappy. Another strong start to the season for the Aggies has come to an abrupt halt in the last week. Since starting 15-1 they've now lost back-to-back conference games to Texas Tech and, most recently, Kansas State. Michael Beasley and Bill Walker didn't dominate the boards as you'd expect (they combined for 8 and they came in averaging 18) but their offensive efforts were more than enough to carry Wildcats to an easy 75-54 win.
• Regular season dominance. Kansas was tested by their neighbors from Missouri but they escaped with their undefeated record in tact after a 76-70 win. Stefhon Hannah put up a line of 23/6/4 but none of his teammates scored more than ten points. Brandon Rush struggled for the Jayhawks (2-14 shooting) but they were able to overcome the weak individual performance with a balanced team effort. I can't wait to bet against this team in the Elite 8.
• Yep, that's a ridiculous record. George Mason's Dre Smith was a perfect 10-10 from the land of triples in a win over their "rivals" from James Madison. Impressive.
• It's just one game, people. Terps win, Heels cry and sing songs around the campfire.