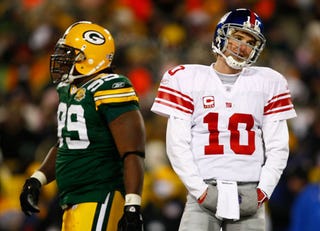 Elisha has been solid, but he hasn't done quite enough to put his team in a good position. Favre is doing Favre-like things and Mike McCarthy still refuses to run the ball. One correction from the first half, it appears that Brady Poppinga has three tackles (not the six I estimated). I guess I'm just used to hearing the name "Brady" today. Follow along with the second half, after the jump...
-Buck announces that it's not quite as wind chilly as it was. Fuck you very much, Joe.
-The Giants receivers are really starting to run free, now Eli has to hit them.
-Oops, he hit Al Harris instead. But that should probably be an interference call.
-Check that, make it illegal contact. It's still Giants ball, but now it's first down.
-Elisha had his pass batted right back at him, but Collins yanked the quarterback down for the roughing call. Weeeeak.
-Plaxico strikes again. Eli released it before Plaxico turned in and the defense never had a chance. Has Plaxico been practicing or something?
-Jacobs takes the ball inside the five yard line. On that note, why does Joe Fuckhead think Jacobs is playing so poorly? 15 carries for 50 yards is nothing to criticize at this point in the game.
-Here's a 3rd and inches inside the two for the Giants. Jacobs picks up the first down, but not the touchdown before the ball came loose. The called it a fumble and a recovery by Boss, but I could have sworn I heard a whistle when his forward progress was halted. But what the fuck do I know?
-Now they just keep throwing flags. I need another fucking beer.
-STOPPING JUMPING THE COUNT YOU GINORMOUS ASSHOLES! I bet they didn't even move the ball on that second "half the distance to the goal" call.
-TOUCHDOWN, BRANDON JACOBS! Suck on that, Buck! Wait, I'm rooting for the Packers. FUCK!
New York 13 - Green Bay 10
-Big return for Tramond Williams! Green Bay will start their drive within striking distance of the end zone. Of course the last time they scored was from 90 yards out, so I guess they're always within striking distance. I'll stop now.
-Hey Michael Jordan, stop lumping yourself in with my man Mello to sell your shitty shoes. He's a good boy and you're a bad influence you evil fuck.
-Packers ball, first down Ryan Grant, who still exists.
-A brilliant personal foul penalty by Sam Madison gave the Pack a free first down and Favre responds with a pass to a wide open Donald Lee. Buck and Aikman seem to have Lee's third step confused with his second.
Green Bay 17 - 13 New York
-Another good return, this time by New York, sets Eli and company up to try to retake the lead. They should probably just throw to Plaxico over and over again.
-Ahmad Bradshaw picks up a first down with an easy trot through the Packers front seven.
-Eli hits Amani Toomer down the left sideline for a beautiful catch. They're challenging the catch, but they just showed a great angle of Toomers toes scraping the turf on his way down.
-Manning to Toomer once again. The Giants are inside the Green Bay five.
-TOUCHDOWN, AHMAD BRADSHAW! And we've got ourselves a shootout.
New York 20 - Green Bay 17
-Favre and Grant are bringing it right back at the Giants. The Packers have moved the ball up to midfield as we head towards the fourth.
-For some reason Favre heaves the ball downfield into triple coverage. Did he think it was the end of the second quarter? Damn you, opiates!
End of the Third Quarter
Start of Fourth Quarter
-Driver found a hole in the secondary and Favre delivered with ease. THey have a first down at the 30.
-INTERCEPTION, RW MCQUARTERS! On a truly awful play by the old Brett Favre, but IT'S FUMBLED AND RECOVERED BY GREEN BAY!
-First down for the Packers, and god damn are they lucky. They still have the ball and they're inside the 20.
-The drive ends there, but Mason Crosby ties it up with his second field goal.
Green Bay 20 - 20 New York
-Hixon delivers another good return and Crosby is forced into tackling duties. The Giants will start at their own 40. This is turning into quite a game, no?
-Plax cannot be contained. Does he know these are the playoffs? Can somebody remind him?
-The Giants could attempt the long field goal, or go for it. They elect the latter.
-Pass interference! Automatic first down for New York. Woodson got there a bit early and he hit Toomer in the head just a bit. The Giants are inside the thirty...almost intercepted by Al Harris at the goal line.
-After nothing happens the Giants miss a field goal, Packers take over.
-The Packers can't do anything with the ball, so they give it right back. We're just under the six minute mark and Joe Buck just mentioned the wind chill for the 29th time (approximation).
-New York is putting the ball in the hands of Brandon Jacobs and I can't say that I blame them. He just made an excellent run out of nothing to get within an inch of the first down mark. Manning sneaks it and they give him the first down. 4:40 left to play.
-Troy seems to think that the GIants are trying to run down the play clock despite the fact that the ball is at midfield and the game is tied. That's good analysis.
-Big third down sack by KGB, and the Pack will get it back with less than three minutes to play. This drive could hold some historic value one day.
-They're playing Kanye in Green Bay!
-FUMBLED AGAIN, BY RW MCQUARTERS! Boy does he suck a big dick! Green Bay had all sorts of shots at that one, but Hixon recovers it for the Giants. FIrst down inside of the 50.
-And the offenses are both going completely inept. 3rd and long for the Packers, and they barely get anything. Timeout New York, they'll get the ball back with 2:30 to play and they should have excellent field position.
-Bradshaw's running free, but it was assisted by a hold. No touchdown, 1st and 20 at their own 42 with the two minute warning approaching.
-mmm... chili
-Eli finds Steve Smith over the middle, great pass and a great catch to match it. First down, inside the Packers 40. Lawrence Tynes just lost all bowel control.
-Call me crazy, but I don't remember Archie looking away in terror when Peyton was in this position.
-And the day belongs to the rookies! Ahmad Bradshaw and Steve Smith do it all to get the Giants into position for the win. Lawrence Tynes is lining up from 36 yards for the win.
-Timeout
-BAD SNAP, THE KICK NEVER HAD A CHANCE! We've got OOOOO-VERTIME! Holy shitballs!
-Green Bay wins the toss, but statistically that doesn't mean all that much.
-My car doesn't return the favor. I think I'm doing it wrong.
-INTERCEPTION, COREY WEBSTER! And that pass was downright Favrian! The Giants are back in business and The Sports Guy is already penning the newest chapter in the Ewing Theory.
-Oy vey.
-Nothing doing for the Giants and it's Tynes Tyme again.
-FOR THE WIN....IT'S GOOD, GIANTS WIN!
Congratulations to the Giants and the Patriots, I'm sure two weeks of "Brady vs. Manning... no, the other Manning" stories won't make any of us want to stab ourselves in the throat. But hey, it's not Favre
I hope everyone enjoyed themselves, because that game was quite a bit of fun. Oh fuck, I forgot about Strahan. Oh well, at least Tiki can't get a ring and Shockey can't play. Fucking Giants.
Go Redskins.
Seriously though, I have to give it up to Eli, Plax, and pretty much everybody else. I never thought the Giants had anything resembling the makeup of a conference champion, but they certainly did it. So what do you say, let's set the line at Patriots -50.
Goodnight internet, it's been fun.