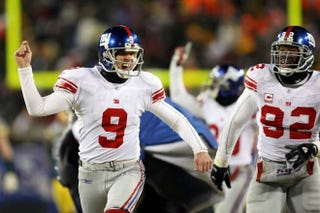 Kickers are always complaining that they have too much pressure on them, and that people only notice them when they fail. This is not exactly true; people only notice kickers when they fail and the team loses. Giants kicker Lawrence Tynes missed two potential game-winning field goals yesterday — one wasn't necessarily his fault — but when he hit the last one, that's all anyone remembered. He's on the front page of the papers today. And strangely ... Brett Favre is not.
Despite the Favre exhaustion of the last few years, the casual, non-partisan fan had to be rooting for Favre yesterday, if just to add even a wee bit more spice to the Super Bowl. The goodwill Favre built up throughout his career returned in 2007, and even those of us who love to make fun of those who worship The Gunslinger Mentality warmed up to him. And then he comes out in overtime yesterday and throws a pass every bit of ill-advised, and even more disastrous, as his famous lame duck in the loss to the Eagles four years ago.
Favre may retire, finally, and he may not; we hope, at the very least, he doesn't take as long to let us know this time. But let us not forget: He has one Super Bowl, lost one, and now cost his team a trip to two others in four years. We know, we know: It's Favre. But one quarterback in Wisconsin yesterday decided to take the game in his own hands, and the other just safely managed the game and stayed out of trouble. Guess which one's going to the Super Bowl?
Another Playoff Run Ends On A Bad Favre Throw [PackersNews]
(UPDATE: Lest we forget, by the way, Coming To America called this.)