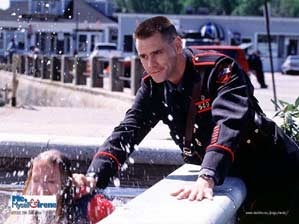 The NHL Closer is written by Greg Wyshynski, of The FanHouse and The Fourth Period. He is also the author of Glow Pucks And 10-Cent Beer.
Friends of Dean McAmmond. Before we get to this week's Brewmeister Ratings, a word about yesterday's fizzle of a showdown between injury-plagued Ottawa and Philadelphia. It was the first time Steve Downie was to face the Senators following his 20-game suspension for launching himself like a missile at Dean McAmmond in a game last September. The Canadian media wanted blood; instead, they were treated to a 6-1 Orange and Black ass-whupping that had some Sens fans reaching for alcoholic pudding, while tough guy Brian McGrattan went from swearing revenge on Downie to injuring himself in a first-period fight with Riley Cote (video). But the Flyers, 10-1-1 in their last 12 games, should consider themselves lucky: Although McAmmond played over 17 minutes, his furious, unstoppable alter ego "Hank" did not see any ice time — and Dean believes "Hank" is a much better player than he is.
"Hank" falls somewhere between the bat-shit crazy of Donte Stallworth's alien friend "Nicco" and the innocent whimsy of Clinton Portis's "Southeast Jerome." It was the name given to McAmmond's quick-tempered persona by former teammate Marc Savard, based on Jim Carrey's character from the Farrelly Brothers' non-classic "Me, Myself and Irene." (No word if McAmmond has raised any obese, Mensa-smart black triplets.) "Hank" first appeared in 1993 when McAmmond mouthed off to a minor league coach. As he explained to columnist Don Brennan, "Hank" is a better player than "Dean," but "Dean" can control "Hank" with a magic elixir called "apple juice." He claims his wife likes "Dean" better than "Hank," which I don't believe for a second because "Hank" sounds like a much better lay, outside of the McIntosh breath.
Now that McAmmond's secret is out in the open, we can all begin counting down the days until some Eastern Conference GM starts whining that "Hank" should count against the cap for Ottawa.
Brewmeister Ratings. Since pseudo-statistical and tedious analysis is the stuff of "power rankings," I describe the fortunes of four teams over the last week with a form of universal expression: In terms of beer. Welcome to The Brewmeister Ratings...
Winner No. 1: Chicago Blackhawks. Now that ConkBlock has cooled off, the next star of Project: Scrapheap is Patrick Lalime, who has won four in a row including back-to-back shootout victories against Colorado and Phoenix last week. Jason Williams joined Jonathan Toews on injured reserve for the next six weeks, but Patrick Kane is proving to be better in a shootout than Clive Owen firing a semi-automatic while holding a baby. Speaking of which... The Beer They'd Be: A tall frosty glass of Goose Island Imperial IPA, served between the ample bosoms of "Shoot 'Em Up" star Monica Bellucci.
Winner No. 2: Washington Capitals. Boy, guess that $124 million contract really caused a schism in the locker room. The Caps won three in a row last week, putting them four points out of a playoff spot and coach Bruce Boudreau in line to become the first former "Slap Shot" extra to win the Jack Adams. The Beer They'd Be: A pint of Guinness safely in the hands of a cute grad student, as she's being hit on by some douche at Fado in 7th Street in DC.
Loser No. 1: San Jose Sharks. Three losses to conference rivals (Phoenix, Dallas, Detroit) has San Jose's beat writer cranking up the Patrick Marleau trade rumor machine one more time. The Beer They'd Be: A $25 bottle of Molson Ice.
Loser No. 2: New York Rangers. Jaromir Jagr continues to be a model of valor, refusing to be interviewed by NBC because Mike Milbury called him "fragile." Cheer up, rainy face: All your team's done is lose eight of 10 games in 2008 while boring the living piss out of a national television audience in a 3-1 loss to the Bruins yesterday. The Beer They'd Be: An old can of Budweiser that a bum now uses as a urinal four blocks away from MSG.
Puck Headlines
* Like I said, Milbury was on NBC this weekend and already eclipsed Brett Hull's entire tenure as a studio host by saying something interesting. The Hockey Rodent, however, is not amused. [Hockey Rodent]
* Speaking of Hull, using him as the basis for your hockey ideology leads to great ideas like a quota system for European players. [Orland Kurtenblog]
* Keeping a vigil for Sidney Crosby's speedy recovery from a high ankle sprain with awful Neil Patrick Harris jokes. [Sid's Ankle]
* Hockey, Hooky or Hickey? Give that girl some All-Star Weekend tickets. [Wofford College]
* Canadians love inventing Olli Jokenin rumors. It's, like, their third-favorite pastime ... besides ice fishing and laughing about the current exchange rate with the U.S. dollar. [On Frozen Pond]
* From Ovechkin to Nash, the best NHL goals since the lockout. [FanHouse]
* And finally, the real reason goal-scoring is down this season: Fucking honey bees: