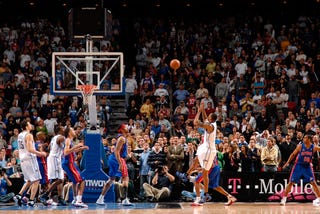 The NBA Closer is written by our Canadian weekend maestro J.E. Skeets. When he's not busy scouring the box scores or crop dusting, he can be heard on The Basketball Jones daily podcast.
• Oh, The Drama Of It All. With 13 games on the schedule Monday, we were bound to see at least one or two buzzer beaters, right? That's just science. Travis Outlaw buried a last-second long-range jumper in OT to lift the Blazers to a 111-109 victory over the Hawks, while Rashard Lewis banked in a buzzer-beater to lead the Magic past the Pistons 102-100. Detroit is expected to file a formal protest to the league later today over whether Lewis did or did not call "glass."
• I Hear Miami Is Lovely At This Time Of The Year. And by this time of the year, I mean, right now, in the American Airlines Arena, playing the the Miami Heat. LeBron James scored 28 points to lead the Cavs past the Heat 97-90 for his first win in nine career trips to Dade County. The loss was the '06 champions 14th straight, their second-worst slide in franchise history. D-Wade scored 42 points for shits and giggles.
• Connect The Dots. Caron Butler had 25 points and nine rebounds and Washington forced 16 turnovers and held Dallas to 41.3 percent shooting as the Wizards rolled over the Mavs 102-84. It was the sixth time this year that the Wiz have held an opponent under 85 points, something the club didn't do once all of last season. Washington is 6-0 in those games. Crazy coincidence.
• It Would Be Fatal For Joey Crawford To Overlook The Urgency Of The Moment. In the spirit of Martin Luther King Jr. Day, Quentin Richardson and Paul Pierce were ejected for jawing about the writer's strike. Smooth move, guys. Kevin Garnett had 20 points, 13 rebounds and seven assists as the Celtics beat the Knicks 109-93. Five technicals were called in the third quarter alone.