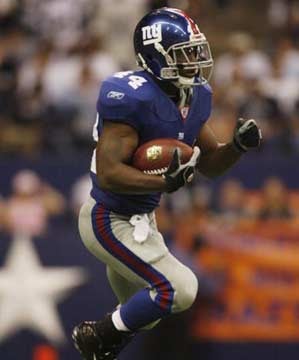 One of the nice aspects of the Super Bowl is that, with the media clusterphooey descending on the game, smaller stories that people might not know about lesser-known players. OK, actually, this is one of those theoretically nice things; it never actually happens this way, which is why, we repeat, you should cancel your cable for the next week and a half. Alas.
Anyway, one overlooked story that we'd like to shed some light involves Giants running back Ahmad Bradshaw. The guy's got some speed, but as his college experience can attest to, not quite enough. The date was July 21, 2004.
Police approached Bradshaw in front of Coup de Villes on Elliewood Ave. and asked him what type of drink he was holding. The 18 year old initially cooperated, telling the officers it was a Long Island Iced Tea. When officers asked Bradshaw for identification, however, he gave them incorrect information. Davis said that Bradshaw was then informed that he was not free to leave yet and he would be patted down for the officers' protection. It was at that point that Bradshaw fled the scene.

Police chased him for about a quarter-mile before stopping him near the Rotunda. Davis said there was a struggle between the parties when the officers were trying to handcuff Bradshaw, leading the officers to use pepper spray. He was then taken to the Albemarle-Charlottesville Regional Jail and was released later Saturday on a $1,000 bond.
That's right: A future NFL running back, at the age of 18 and at the most gazelle-like of his powers, could not outrun policemen. How do you even draft a guy after that? Honestly, "being chased by the cops" should really be an event at the combine.
From Coupe De Villes To The Super Bowl [Bolder Debate]