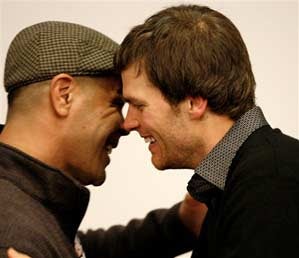 SCANDALOUS celebrity Web site TMZ was the first to post the pictures of Tom Brady's "boot cast thing" — trademark Deadspin! — and it is everyone in a tizzy. We quite love the idea of John Clayton and Len Pasquarelli digging through TMZ for more Tom Brady injury updates.
Supposedly it's a high ankle sprain. We're not sure this necessarily changes the outstanding gambling opportunity of betting on Brady to win the Super Bowl MVP, but it assured one more addition to the storylines you're already sick of. This one is probably going to outweigh them all; it's pretty tough to beat the gimpy quarterback carrying flowers for Gisele Bundchen.
In related news, Eli Manning bought one of those roses you get at the gas station for $3.99, slipped it in an envelope and shoved it in a mailbox for his lady. Which was sweet, we thought.