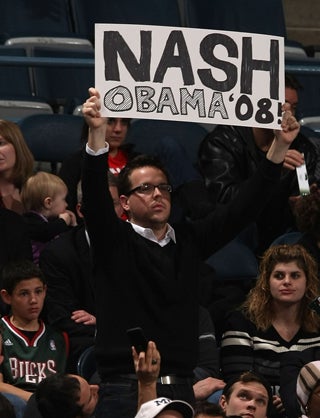 The NBA Closer is written by our Canadian weekend maestro J.E. Skeets. When he's not busy scouring the box scores or ordering some violent quiche, he can be heard on The Basketball Jones daily podcast.
• Three-Pointers You Can Believe In. Steve Nash increased investments in infrastructure, energy independence and education in the first half; brought the troops home from Iraq in the third quarter; and scored 15 of his season-high 37 points in the fourth to lead the Suns past the Bucks 114-105. All in all, not a bad Tuesday. Grant Hill returned to the Suns' starting lineup, less than two weeks after undergoing an appendectomy. He had eight points in 27 minutes.
• Back Together Again. Forget Obama, the Sacramento Kings are definitely voting Hillary. With their three stars healthy and starting for the first time, the Kings rolled to their most lopsided win of the season. Ron Artest scored 27 points, Kevin Martin added 19 and Mike Bibby scored all 15 of his in the first half to lead the suddenly spry Kings to their third straight victory, 128-94 over the Nets. New Jersey has now dropped six straight. I don't think Brooklyn wants them anymore. (Ed. Note: Some of us didn't want them in the first place.)
• I Like Big Dunks And I Cannot Lie. Lost amidst the madness of Monday's MLK matinees was the NBA's announcement of the players chosen to compete in this year's dunk contest at All-Star weekend. My bad. Your dunkees: sticker beast Dwight Howard, defending champ Gerald Green, Toronto's own Jamario Moon and Rudy Gay. Solid field. And new lil' wrinkle this year — after the final round of dunks, fans will be able to vote by text message or on NBA.com to help determine the winner. Yup. Vote 'Toine!