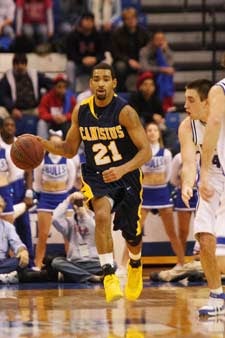 We are sad to say that Jonah Keri has discontinued his College Basketball Closer; we will miss him. But that's not all for the Closer; we'd like to hand the mic to the gang at Storming The Floor to fill in.
\According to ancient myth, the messenger god Hermes used his winged golden sandals to zip around and deliver stuff. He was kind of like the Point Guard of Mount Olympus. He was even allowed to visit hell and return unscathed - no mean feat.
In college basketball, golden shoes allow one to visit the depths of the MAAC - one rung above hell - but a return to the light is far from assured. The Canisius Golden Griffins get their day-glo sneaks from Nike instead of Zeus, which might explain their 1-7 record in the small northeastern league. (And to think my college advisor said Mythology 101 would be a waste of time).
The Oregon-based shoe manufacturer makes the kicks especially for the Griffins, so you will not find them in stores. What you can do, is you can buy a white pair and color them in with a highlighter from your desk drawer. But that's just going to buy you an ass-kicking.
If you have a satellite dish, and want to burn out a retina, the GGs will face Fairfield on da U this Thursday.
Wine and Cheeseheads. Michigan at Wisconsin started slowly, with half-empty stands and the drowse-inducing tones of Brent Musberger and Steve Lavin describing the action. Badger defenders played nearly two Majerus-units off of Michigan's shooters most of the evening, but the Wolverines clanked several open threes and managed to shoot just 41 percent on the night. The maize and blue made a game of it, as freshman Manny Harris pumped in 26 in a losing effort. The crowd finally woke up after a Krabbenhoft rejection with two minutes to play, and the Badgers went on to win by a score of 64-61.
Kentucky Has the Horses. The Wildcats used defensive pressure, clutch free-throw shooting, and a raucous home crowd to take the #5 Volunteers out of their game plan. Gillispie's squad moves to 2-2 in the SEC East, with a handful of winnable games on the horizon.
Oliver's Army. #25 Clemson scored 15 in OT to fend off a determined Wake Forest team, winning 80-75. The Tigers only get four more games at Littlejohn this season, so the anticipated Clemson Collapse is still very much in play.
Mid-Major Spotlight. #23 Drake 68, Creighton 60. Call this one the battle of the Korvers. Big brother Klayton scored 12 for surprise MVC powerhouse Bulldogs, while Kaleb managed just 4 for the losers. Tom Davis' son Keno is the latest scion to make nepotism look good.
Tonight's Big Game:
Baylor at #16 Texas A&M. Baylor is 3-0 in the Big 12, having fed on the lesser lights the Big 12 has to offer, and soaring on the contagious optimism of coach Scott Drew. Texas A&M swanned through the early part of the season, leading Aggie fans everywhere to query "who needs Billy Gillispie?" (a call that might be on the ebb in Lexington). But Mark Turgeon's boys have looked weak in-conference, handing The General his 900th victory and getting manhandled by a talented but inconsistent Kansas State team two days later. Word is that another loss to an in-state rival will lead to a special present from Reveille in coach's favorite pair of loafers.
The crew at Storming the Floor talk College Hoops all day long. Contact them with thoughts, rebuttals, or rants at stormingthefloor@gmail.com