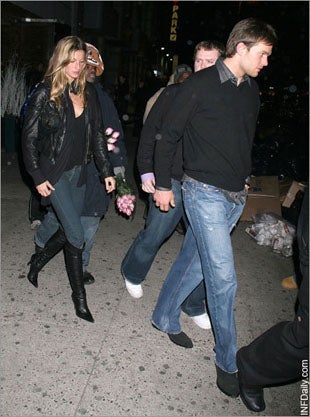 Tom Brady WILL be at the dance tonight, girls. He WILL be there. I'm paraphrasing Bill Murray in Meatballs, but you get the picture. So, Brady's "high ankle sprain" is not as serious as many believed (hoped?) ... unless they're now making walking casts in pointy-toed dress shoe designs. He showed up at Butter with Gisele in New York on Monday night with no protective boot ... ahhhh, just let the Boston Globe tell it (waves arm in disgust).
Brady has a high right ankle sprain, according to an NFL source, which explains why he was wearing the device during a visit to New York. The sprain, which is minor, will not jeopardize Brady's chances of playing in Super Bowl XLII Feb. 3, the source said. "It is a way to rest that body part and prevent the normal movement that goes on with everyday walking," said Dr. Nicholas DiNubile, who serves as an orthopedic consultant to the Philadelphia 76ers. "That allows things to settle down because it's protecting that area and preventing the motions. Not knowing the specifics, it looks to me that they just wanted to put it to rest for a day or two."
Brady's father, Tom Brady Sr., then shed more light on the situation.
"If he had to go out there with two crutches and a cast on each leg, he is playing," Brady Sr. said. "He won't voluntarily walk off the field. Anybody that thinks a little tweak is going to stop [him] is just wasting ink."
Yes, we hate wasting ink here. I love dads; they're so Now.
And here's exciting video action of Brady walking!
Tom Brady Walking Around [TMZ]
Brady's Injury Minor [Boston Globe]
Another Reason To Yammer About Tom Brady All Week [Deadspin]