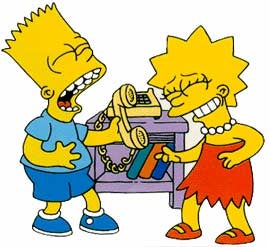 We remember the old days, back when we were dorfing around at the Daily Illini, of media conference calls with Big Ten coaches. Gene Keady would ramble on too long, Lou Henson would drone that earnest whine of his and Bob Knight, of course, would never show up. It was strange, really, to have a phone number that would connect you with legends of coaching while you were a 19-year-old floppy-haired dork in a Nirvana shirt and ripped jeans; giving us that number was asking for trouble. Fortunately, they were usually before noon, and we were never up that early.
And no one dared give us the women's coaches' teleconference number; that might have been a disaster. It certainly was in the SEC this week.
The LEXINGTON HERALD-LEADER gets a busy signal, as a teleconference with SEC women's basketball coaches was interrupted by prank calls.

The H-L reports, "The questions were graphic in nature, and included inquiries about coaches having sexual relations with players and players' performances based on their menstrual cycles." Unfortunately, the media meeting was adjourned before Pat Summitt got her chance to speak.
We're still not certain this was actually a prank and wasn't, say, Mike Tirico.
(Sorry, Mike! We know, you're better now!)
Women's Coaches' Teleconference Gets Dirty [Sports By Brooks]