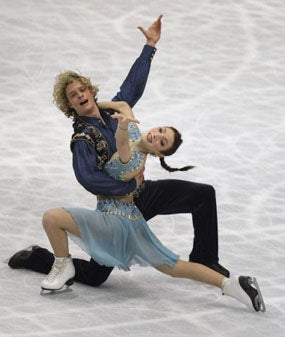 Charlie White is just your typical kid from Michigan. By the time he was a teenager, he realized that ice hockey just wasn't for him — even though he had led his club team, the Detroit Wolverines, to a state title. No, he wanted to be much more creative on the ice. He wanted to dance.
The former state champion hockey player from Royal Oak, Mich., left the sport behind to focus on ice dancing with partner Meryl Davis. Davis and White begin their medal quest today in the ice dancing competition at the Xcel Energy Center, their sights on qualifying for the world championships in March. ... By the time White was about 7, his skating coach realized that hockey was hurting him artistically. The coach suggested trying something new to help him stretch out and straighten up. "I didn't have great posture (from playing hockey)," White admitted. "My coach wanted me to get into dance."
I don't know a lot about hockey. Is posture important?
I can't think of anything else to say here, so I'll leave you with this: "This is my brother. And this is my brother's new girlfriend and she is NOT a whore!"
White Has No Trouble Making Transition From Hockey To Ice Dancing [San Jose Mercury, via Deuce of Davenport]