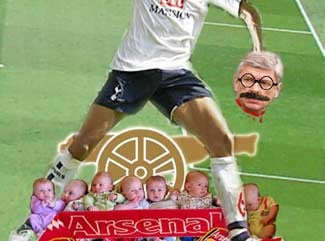 David Hirshey writes regularly about soccer for Deadspin.
While the rest of the world was mourning Heath Ledger, the people in my shallow universe (almost all six of them) were offering their condolences for that other great loss yesterday. I speak, of course, of the 5-1 drubbing Arsenal's U-11 team took at the feet of their perennial butt boys, Spurs. Friends from all over the world (in other words London and Israel) wrote to commiserate about Arsenal being knocked out of the Carling Cup. How important is the Carling Cup, you ask? Let's get real for a second. It's not exactly the Nextel Cup or even the Stanley Cup. As far as I'm concerned, it's right above the Sippy Cup, which is probably why Arsene Wenger fielded his Diaper Dandys with a few senior players to babysit them.
After all, the Carling Cup is, at best, a fourth priority for Arsenal, behind the Prem, the FA Cup and the European Cup, none of which Spurs have to worry about. But let's give Spurs their due. They completely outplayed us and showed their true class by throwing crap at Fabregas (who certainly played like it!) and chanting "Arsene Wenger is a Pedophile".
Which brings me to the boys at Unprofessional Foul, who have shown their astonishing photoshop skills by making the debonair pedophile himself look like a certain mustachioed Jewish soccer pundit. No doubt, they had Shep Messing in mind. To them and to the rest of you Schadenfreudeans, enjoy your first meaningless victory in nine years.