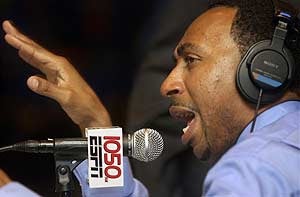 Ladies and gentlepeople, the online world has officially matured into the dominant medium we all suspected it may someday be: Stephen A. Smith has a blog.
Actually, it's not confirmed it's really him — one would think he'd have an ESPN blog, but, then again, Salisbury's site is outside the ESPN realm — but it certainly sounds like him, and it's all official looking and stuff. And who else would write this?
In the interest of being real, although I've been a journalist for more than 14 years, therefore intimately accustomed to writing, especially on the fly, I've never desired to have my own website, let alone write my own blog. But things change when your loved ones notice your notoriety more than you do, when they aspire for your voice to expand, when they've grown tired of the countless times they've heard critics rain venom without compunction because they sensed my voice was limited.
"Venom without compunction." If that's not our CHEESY DOODLES HERO, we don't know who is. Welcome, Stephen A. There's room for everybody. Just don't start making up stuff, because, you know, that's what blogs do.
The Official Stephen A. Smith Website
The Post Where Stephen A. Calls Us A Liar, And We Return The Favor [Deadspin]