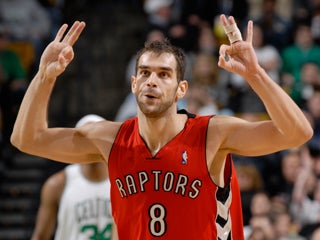 The NBA Closer is written by our Canadian weekend maestro J.E. Skeets. When he's not busy scouring the box scores or hawking merchandise, he can be heard on The Basketball Jones daily podcast.
• Let The Roughriders Play The Patriots! The Raptors shooting percentages hit you like a fart that was trapped in a Soundgarden CD jewel case to the face: 58 percent from the floor; 71 percent from three-point land; 100 percent from the foul line. Add it all up and the Raps shot well over 225 percent to beat the Celtics 114-112 in Bahstan. Jose Calderon converted a go-ahead, three-point play with 10.5 seconds left and finished with 24 points and 13 pesetas. Chris Bosh added 23 points and Andrea Bargnani finally did good with 20 points, seven rebounds and seven assists.
• You Can Call Him Al. Al Jefferson walks down the court. He says why are the Suns soft in the middle now? Why are the Suns soft in the middle? Playing in Minnesota is so hard. I need an All-Star opportunity. I want a shot at redemption. Don't want to end up a Kwame, in a cartoon city. Bricklaying, bricklaying. Lakers in the moonlight. Far away my well-lit locker. Mr. McHale, McHale. Get these Wolves away from me. You know I don't find this stuff amusing anymore. (Um, Jefferson scored a career-high 39 as the Wolves beat the Suns — again! — 117-107.)
• Pasty Power. I've been saying this for, oh, I don't know, at least a few minutes now, but Luol Deng and Ben Gordon have been holding the white man down forever! It's true! Kirk Hinrich scored a career-high 38 points as the Bulls did this funny little thing called "winning a professional basketball game" by beating the Pacers 108-95, minus the services of Deng (tendinitis) and Ben (wrist). Rookie Joakim Noah — who, for all intensive purposes, is also white — added 14 points and a season-high 15 rebounds for Chicago.
• Ladies And Gentlemen, Your Western Conference Leader Is ... What!? The Hornets!? Get out! [/shoves Jerry Seinfeld.] Reserve Jannero Pargo scored a season-high 24 points in 24 minutes as New Orleans extended its '07/08-best winning streak to six games with a 96-81 win over the Blazers. David West scored 22 for the Hornets (29-12), who have won 14 of 16 and now lead the West thanks to Suns' long lost pal.