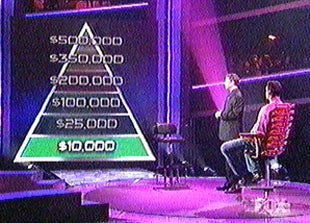 The man seated on the right here is Tinker "Ty" Keck, former defensive back for the University of Cincinnati and the XFL Los Angeles Xtreme. He was the first contestant on the new game show The Moment of Truth, which debuted last night. It's an idea that somehow eluded George Mitchell but not the executives at Fox Entertainment: Hook up people to a lie detector and ask them embarrassing questions for money. Keck, who was an undrafted free agent for the New York Giants (although he never played in a regular season game), failed miserably, leaving with zero cash, while in the process admitting that he checked out his teammates in the shower. Hey, I couldn't make that up! Yes, to answer your question, we are at the End Times.
The premise of the show is to ask the contestant revealing questions, as their wife/significant other looks on. If the polygraph machine catches you lying, you're eliminated (My idea of an additional 300-volt electric shock was roundly rejected). Among the questions Keck answered truthfully were "Have you ever done anything that would cause your wife to distrust you if she found out? (Yes), and "Have you ever slept with a woman on the same day that you met her?" (Of course!). The one which bounced him from the show was "While giving a massage, have you ever touched someone more than was necessary?" (Keck is a personal trainer). He answered no, but the machine disagreed.
Not only did Keck win no money, but he also had to answer this question, posed for some reason by former NFL quarterback Rodney Peete: "While in the shower after a game, did you ever sneak a peak at a teammate's private parts?" (Yes). Unfair, of course, because how can you avoid it? But most people don't have to acknowledge it on national TV.
Anyway, the show is being produced in 24 countries, and by all accounts the U.S. version is the tamest in the bunch:
Last year, Colombian TV yanked the show off the air after a woman admitted she wanted to hire a hit-man to kill her husband. Public outcry forced authorities to reinstate it several weeks later.
But that's nothing. You should see the North Korean version of Deal Or No Deal.
The Moment Of Truth Gives Honesty A Bad Name [The Hartford Courant]