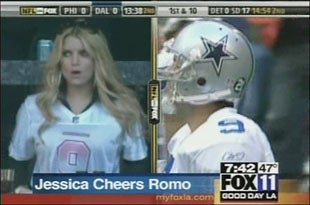 Good news, fellows ... Jessica Simpson may soon be available. So for Heaven's sake start wearing collared shirts! (Preferably popped.) Word is that Tony Romo would like to dump her ... only she's not going easily. Hmm. Glenn Close in Fatal Attraction comes to mind here for some reason.
On Jan. 17, Tony called Jessica at her L.A. home to try to break things off. "He said he thought it was better if they went back to being friends," a pal of the singer tells OK!. "'Just friends' is not in Jessica's vocabulary, and she is not a victim. She knows how bad this will look in the media." But according to the pal, Jessica refused to give up, and so Tony invited her on what he thought would be the worst date of her life: a hunting trip! "It's Tony's way of punishing Jess," laughs her friend. "Jessica Simpson hunting — and without her entourage? Forget it!"
You know, to tell you the truth, I'm so sick of this whole thing I feel like hitting myself repeatedly in the head with a circus mallet. Dump her, keep her, I don't care! (Retires to bedroom, closes door, rips Romo-Simpson People Magazine cover to shreds. Pulls knees up to chin and cries).