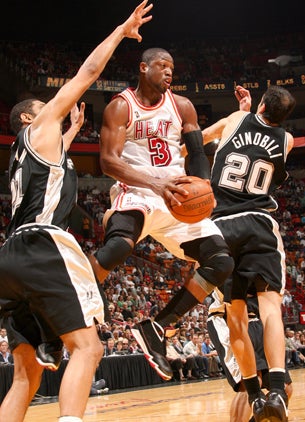 The NBA Closer is written by our Canadian weekend maestro J.E. Skeets. When he's not busy scouring the box scores or hiding in suitcases, he can be heard on The Basketball Jones daily podcast.
• 15 Wrong! Stand up, AP sports writer Tim Reynolds. Stand. Up. Two years ago, the Miami Heat were dubbed "15 Strong" on their way to the NBA championship. These days, it's more like "15 Wrong" — and counting. Man, dude must pull mad pussy with lines like that. Well done. Tim Duncan scored 30 points and brought the Spurs back from a 10-point second-half deficit to beat the Heat 90-89. It was Miami's 15th straight loss, two shy of matching The Spin Doctor years.
• We've Made A Horrible Mistake. We forgot to vote Monta Ellis to the All-Star Game starting line-up. (Don't click that link, 'Toine!) The Baby-faced Assassin rung up a career-high 39 as the Warriors somehow managed to score 22 consecutive points AND blow a 13-point lead in the fourth quarter of their 121-119 win over the Nets. Josh Boone had a season-high 21 points for New Jersey, including a 7-for-15 performance from the foul line when Don Nelson threw out the ol' Hack-a-Boone scheme in the third. Believe it or not, 7-for-15 raised Boone's FT percentage significantly. Baron Davis posted his eighth career triple-double in the win with 25 points, 12 boards and 10 assists.
• I See Redd People. Do you know why you're afraid when you're alone? I do. I do. It's because you're watching the Indiana Pacers play the Milwaukee Bucks. Yeah, scary stuff. Now go chase that balloon up the stairs. Michael Redd scored 37 points and Andrew Bogut added 17 and 11 rebounds to lead the Bucks to a 104-92 victory over the Pacers. Redd dropped 10 in the important quarter, playing every minute of the second half and 45 minutes overall. (Props to Adnan Virk and his sixth sense — NBA Closer headlines.)