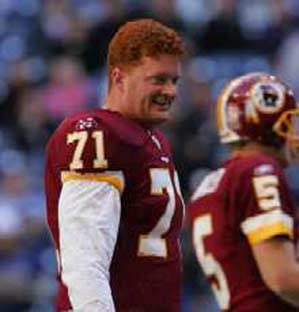 Remember Ethan Albright? The Redskins long snapper who had the worst rating in all of Madden 2007 and was immortalized in The Phat Phree's famous mock letter to John Madden? Well, his rating won't be so low next year: He's going to the Pro Bowl.
Good for him; he deserves it, we guess, if just for having such a low rating. To remind, here's our favorite excerpt from "Albright"'s angry letter to Madden:
You know what, John? Two can play this game. I rate you a fucking 12. I rate you a fucking 12 in Ethan Albright Football 2000-ever... except for in the category of ball-licking. That is where I will spot you a 98 rating. You will receive this score because I will never give your blubbery ass a 99 in any category. Take that, pencil-dick. Go do Al Micheals or something. Boom. Score one for Red Beard.
Pro Bowl, dude: Score another for Red Beard.
Albright Added To Pro Bowl [Redskins Insider]
Ethan Albright Strikes Back [The Phat Phree]