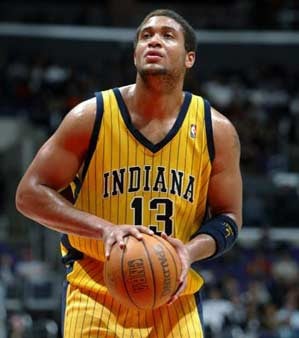 The Pacers' David Harrison, who just failed a drug test, made news the other day when he pointed out that the NBA seems unusually concerned about marijuana and shouldn't test for weed. (He has a point. Dood.) But Indy Cornrows notices that that's not all he had to say.
In fact, he just keeps on goin'.
llowing rules blindly, doesn't mean you're right just by following those rules. There needs to be a just rule. I mean, a long time ago George Washington sat around, didn't want to pay taxes to the crown. There's other things going on, but the rudimentary part of our American revolution was we didn't want to pay taxes. And we broke that rule and we have America today. You know, if we would've lost that war, George Washington would be Benedict Arnold.

You know, it's whoever wins, you get the praise. Nicotine won, the tobacco industry won. That's the thing, they wouldn't want marijuana to be legal. It causes less cancer and actually, I've read studies where in cities with very bad air pollution like in Indiana, it helps protect you from lung cancer.
Right on, Dave. And Martha Washington? Total stoner, man!
David Harrison Keeps Talking [Indy Cornrows]