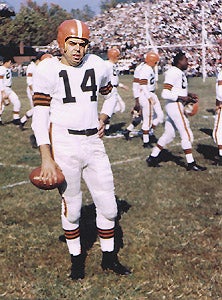 Conversation going on at ESPN's Mike & Mike In the Morning (we're irreverent, look at all our bobbleheads!) this morning: Which is the greatest NFL dynasty of all time? The Mikes put their heads together and picked the 1970s Steelers, which is wrong. Like many, their memory doesn't extend to before the first Super Bowl. Why not? Prior to 1967, the NFL Championship Game was the same thing, only with less Carlos Mencia. Fortunately I'm here to set the record straight.
No professional team dominated a sport like the Cleveland Browns between the years of 1946-1955. They played for 10 straight pro football titles over that span, winning seven; four in the All American Football Conference and three in the NFL, and then a fourth in the NFL in 1964. Keep in mind that the AAFC wasn't an inferior league; its teams played against NFL teams during its four years of existence, and when the leagues officially merged in 1950, the Browns continued kicking ass just as before.
Quarterback Otto Graham led the Browns to a 105-17-4 record (.861 winning percentage) over those 10 years. The Browns completed an undefeated season in 1948, going 15-0. They had a kicker named "The Toe." Plus, Hall of Famers Marion Motley and Bill Willis broke the NFL color barrier in 1946, a year before Jackie Robinson joined the Brooklyn Dodgers. Fans were so impressed with coach Paul Brown that they named the team after him. Could you imagine the New England Belichicks? (The Tampa Bay Grudens would be cool, though).
So step off, Mike & Mike. Just step off, man.
Pro Football's Greatest Dynasty [Cold, Hard Football Facts]