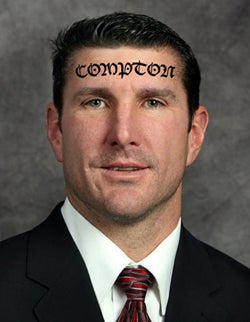 In today's smash-mouth world of college football recruiting, desperate times call for desperate measures, and desperate measures call for temporary tattoos. That's just the way it is.
Take defensive high-schooler Will Compton for example. On Wednesday, the 6-foot-2, 225-pound linebacker prospect from Bonne Terre, Missouri, reaffirmed his pledge to Nebraska. Why? Because NU assistant Mike Ekeler is down with the kids.
The Huskers' first-year linebackers coach showed up at Compton's home Sunday with a temporary tattoo on his arm. It read "Compton" in Old English lettering above a Blackshirts emblem.

"Knowing him, that's not surprising," Compton said. "When he did that, it put a big smile on my face."
No word on whether Nebraska will be penalized for giving Compton some Madballs.
College Football Coaches Are Weird [RTC Talk]
Compton Reaffirms Pledge To Huskers [Omaha World-Herald]