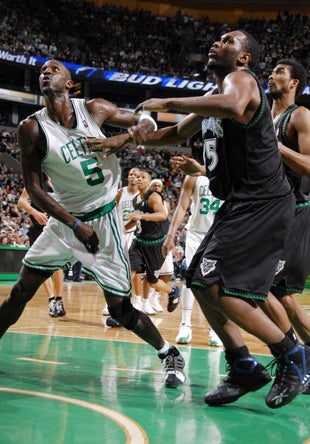 The NBA Closer is written by me, J.E. Skeets, high leader of Canada. When I'm not busy scouring the box scores or part-time modeling, I can be heard on The Basketball Jones daily podcast with some Greek. Enjoy!
• Revenge. In the first regular-season game between Kevin Garnett and the bouquet of former Celtics traded for him, Boston struggled to put away Minnesota, 87-86. Kendrick Perkins finished with 21 points, including a go-ahead put-back with 16.6 seconds left, and Garnett added 10 points and 16 boards despite leaving the game for 4 minutes with an abdominal strain. "It felt like I got sniped from the rafters or something, you know," KG said. "I just had a sharp pain come from my stomach and I just wanted the doctors to look at it. They looked at it and said I was fine, so I came back out." Man, for someone who regularly hunts squirrels and shit, Kevin McHale is one bad shot.
• What Is "Real"? How Do You Define "Real"? Shawn Marion dropped in a silky baseline floater with 1.1 seconds left for his only field goal as the Suns melted Cleveland with a season-high 17 3-pointers in a 110-108 over the Cavaliers. Raja Bell scored 27 points and Steve Nash added 26 — 21 on 3-pointers. That's real, son.
• Flying High. Peja Stojakovic — and his goatee — nailed five 3-pointers in a four-minute span in the third to lead the Hornets over the Clippers 111-92. The win was NO's seventh straight. New Orleans made 14 3-pointers over all, including 12 in the second half. "I don't know how to explain that," said Peja, who finished with 26 points overall. "You always think: 'You never know if you don't try.' You've got to let it fly. Some nights they go in, some nights not." That sounded like poetry.
• Mind Boggling. Whatever you do, DON'T look at the Western Conference playoff standings this morning. It's a holy hot mess of crowded. Carlos Boozer made his first 13 shots and scored 33 points to lead the Jazz over the Kings 127-113. And in Portland, Tracy McGrady had 15 points and Carl Landry added 12 and eight as the Rockets snapped the Blazers' 12-game home-winning streak with an 89-79 win. I think the Nuggets won too.