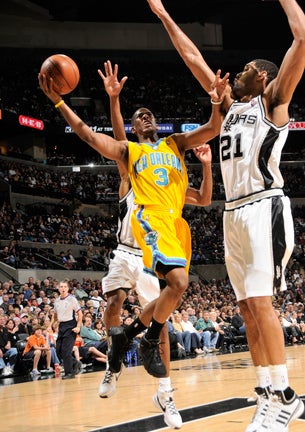 The NBA Closer is written by me, J.E. Skeets, high leader of The Moose. When I'm not busy scouring the box scores or part-time modeling, I can be heard on The Basketball Jones daily podcast talkin' shit and spittin' rhymes. Enjoy!
• R-E-S-P-E-C-T. Make it eight straight for the yellow N.O. David West scored 32 points and Peja Stojakovic added 22 points to lead the Western Conference-leading Hornets over the defending champ Spurs 102-78. "The whole thing about this team is 'Oh, can they beat the big teams?"' Hornets center Tyson Chandler said. "We've shown we can beat all of these teams and we deserve some respect." /fixes imaginary tie. "I'm ugly I'm tellin' ya. My proctologist, he stuck his finger in my mouth," he added.
• Enough Is Enough. Dwyane Wade scored 35 points and Mark Blount added 10 of his 19 in the fourth as the Heat beat the Pacers 98-96 to snap a 15-game slide — the longest in the NBA this season. But the win wasn't even the best part of the day. To celebrate Heat mascot Burnie's birthday, other noted South Florida mascots appeared, including T.D. of the Miami Dolphins. He was booed. Mercilessly.
• The Spirit Of Philadelphia. Head for Penn's Landing on the Delaware riverfront and spend a few unforgettable hours aboard the city's most entertaining dinner cruise ship. Sounds lovely. And oh, Andre Iguodala — CLICK HERE — scored 33 points and Andre Miller added 23 as the Sixers beat the bickering Bobcats 103-96. Philly rallied from an 11-point first-half deficit to earn the much-needed win.
• Gay. With Pau Gasol suffering from a pretend sore back, Rudy Gay scored a career-high 34 points and had 12 rebounds as the Grizzlies beat the Clippers 125-120 in OT. Fact: The three-highest scoring performances in Gay's career have come when Gasol has been out. Double fact: Gasol is more gay than Gay.