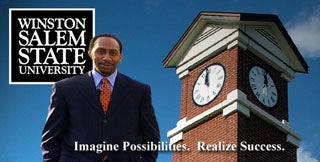 Our story so far: Stephen A. Smith started a blog, and then things got out of hand in the comments. So he heightened security; now requiring registration before one can comment. And that's a good thing, because now that all the jerks and racists are gone, all that remains is comedy gold.
In an interview with A.J. Daulerio, Stephen A. says that he realizes that he is "a polarizing figure." But if something or someone is polarizing, doesn't that require two opposite reactions? In looking through the comments, I just see one, basically.
• StephenA, You were right when you said that bloggers have no credibility. You are a perfect example. — AirRaid81
• Folks, I think we've been had. As ridiculous as this crap is, and as much as it sounds like Creamin A
I think we've got a hoaxster on our hands. — Iloveagoodhoax
• A pretty elaborate hoax. He even set up a professional-looking website (www.stephena.com) and got Stephen A to talk about HIS blog on his radio show. Nice detective work asshat. — Fallex
• AS FOR POLITICS, WE SHALL GLADLY TAKE YOUR ADVICE AND VOTE FOR HILARY, BARACK AND MCCAIN. BUT WE ALL KNOW THAT THE BEST CANDIDATE HAS NOT DECLARED CANDIDACY YET... YOU! AND ISIAH THOMAS FOR VP! — Stephen A. Smith Appreciation Society
• Loud does not equal insightful. — PurdueMatt
• I'M BRIAN FELLOWS! I'M BRIAN FELLOWS! Come on Stephen. Just yell it. You know you want to. — Brian Fellows
• Anyway, do your thing (maybe a Geico commercial is in your future!!) but just know that (all that yelling) is annoying especially when the batteries are low on the remote. — Straphanger4Life
• Remember that time you said the Chargers should kick a field goal on third down because if you miss, you can just kick it again on fourth down? That was awesome. I hope this blog is that awesome too. — Lozo
• To subscribe to the Offline version of the Blog do I need to do anything besides unplug my internet connection? — CousinsofRonMexico
• This blog is as meaningful as an Andrei Kirilenko marriage proposal. — More Credible
Yes, Stephen A. has made such a positive impression that at least one reader suspects that the blog is a hoax. It can't be real, can it? (Ed. Note: Alas, Daulerio assures us that it, indeed, is.)
Oh, it's real, and I hope that it never goes away, ever. But with only two posts since its inception, we need more more more.
Stephen A. Smith Is Serious About This Blogging Business [Deadspin]
Stephen A. Smith [Official Website]