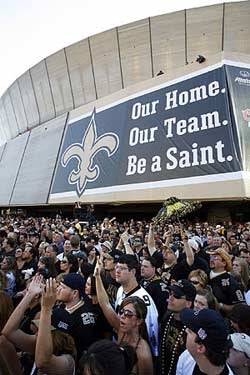 The NFL announced yesterday that next year's Wembley Stadium in London game will be between the New Orleans Saints and the San Diego Chargers. This makes sense — perhaps we'll get a Reggie Bush giant robot — but we don't quite understand: Why are the Saints the home team?
No offense to the Chargers, but couldn't New Orleans use those home games a little bit more than San Diego? Particularly just a couple years after the Saints practically played every game on the road anyway? One Saints fan puts it a little stronger.
Now, you are taking a home game away from the Superdome, the Shrine, the Sacredome, the fans who gave you the loudest game in NFL history? Way to build that goodwill, fuckers.
It does seem like a strange decision, doesn't it? Having the Buzzsaw be the host for a Mexico City game makes sense, but New Orleans the home team in London? Hmm.
Eff You, NFL [Ashley Morris]