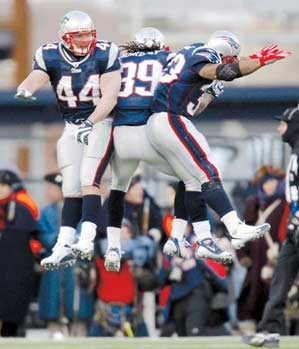 So this is the kind of Super Bowl XLII analysis we can get behind: FanIQ asks which team is more likely to have a Eugene Robinson moment? It is the Super Bowl, and this is a legitimate question.
The question is broken down Dr. Jack-style, and takes in all possible variables.
Nearly every major party will take place in Scottsdale, many of them right near the Patriots' hotel. Nearby Barcelona will be hosting several major parties, including the NFL Players Association Party and the Sports Illustrated Party. Other major parties in Scottsdale include the Maxim Party, Terrell Owens' bash, the Bud Bowl, several block parties, the Leather & Laces Party (with Carmen Electra and Catherine Bell), the Saturday Night Spectacular (featuring John Travolta & REO Speedwagon!), the ESPN the Magazine Party, the Penthouse Party and the Deadspin Super Bowl Party. Okay, maybe the Deadspin Super Bowl Party isn't a major party, but it's the only one I have a chance in hell of attending, so it makes the cut. P. Diddy and Snoop Dogg are providing the entertainment at all of the above parties. The only exception is the performance by Doug Flutie and the Flutie Brothers Band at Mickey's Hangover. Diddy will really be scraping the bottom of the barrel if he has to sample the Flutie Brothers Band.
We have zero doubt that Wes Welker is going to be arrested doing something untoward at the Saturday Night Spectacular with John Travolta and REO Speedwagon. There's your winner.
Which Team is More Likely to Have Someone Get Into Trouble, Giants or Patriots? [FanIQ]