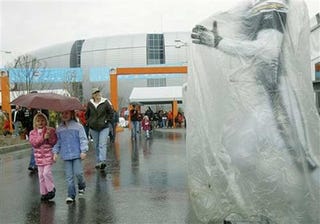 As you read this, we will be on a plane to beautiful Phoenix, Arizona. It has been freezing in New York City, and fortunately, we can have the sweet release of gorgeous desert weather ... wait ... is that rain?
We can't possibly compare to what Daulerio did last year, so we're not even going to try. Instead, we're just gonna show up and everything we can find, take pictures of everything we see and try to do some justice to the lunacy of the Super Bowl Week. And we're also gonna hold a reading and hosting a "big" Super Bowl bash. (And maybe hop by a couple other parties as well.)
But mostly, we're just excited to visit Arizona, the home of our sacred Buzzsaw, for the first time. Even if it's freaking raining. See you tomorrow.