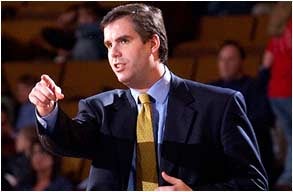 The College Basketball Closer is written by the gang at Storming The Floor.
Big Monday was a bit of a disappointment for the Sutton clan.
Patriarch Eddie failed once again in his circus-stunt bid to claim his 800th victory as a gun-for-hire at San Francisco, falling by double digits to a mediocre Santa Clara squad. Eldest son Sean Sutton was on the losing end of the Bedlam series with Oklahoma, postponing his own search for a less-than-landmark 33rd victory as a head coach at Okie State. In addition to the loss, the scion of the Sutton coaching dynasty suffered from a bad case of the flu, and had to fight back the urge to vomit every time the Sooner band launched into their brassy rendition of "Boomer Sooner."

One family member is enjoying the season of his life, however. Second son Scott went to Oral Roberts University to work for another former OSU Cowboy by the name of Bill Self. Now in his ninth season as head man, the younger Sutton is dominating the Summit League with a 9-0 mark and avoided having a Bad Case of the Mondays by not scheduling a game until this weekend.
Scott is raising the Golden Eagles' profile with good scheduling. He avenged decades of noogies and atomic wedgies by stomping his older brother on a neutral floor back in December, coming away with a 74-59 victory. He even makes the notoriously spread-out Summit League slate look easy, having scheduled North Dakota State and South Dakota State back-to-back so his team didn't have to make two flights to the Badlands. If he manages to sweep through the Summit's weak sauce of Gentlemen, Mastodons, and Kangaroos unsullied, look for his name to start appearing on money-school wish lists soon.
Bedlam Brother Act. Oklahoma 64 - Oklahoma State 61. OU Freshman Blake Griffin is often overshadowed in the Big XII by Kansas State's Michael Beasley, but the Oklahoma native is a beast in his own right. He scored 15 points to take yet another Bedlam crown for the Sooners, and his deft passing out of the double-team allowed his somewhat less talented older brother Taylor to score 20.
Yes, UConn! Connecticut 69 - Louisville 67. The Cardinal press produced mixed results in this game, but it was an errant shot by Juan Palacios following a successful defensive stop that ended the scoring in this matchup of streaking teams. UConn was again playing without leading scorer Jerome Dyson following the shocking discovery that college sophomores occasionally drink alcohol in violation of various state and local ordinances.
Mid-Major Spotlight. Saint Mary's 63 - San Diego 55. The Gaels are trying to mount a serious challenge to Gonzaga's recent dominance of the WCC, but they let this one slip away. Indigenous Aussie Patty Mills played his gosh-darn heart out, but couldn't triumph over the combined efforts of Gyno (Pomare - 20pts) and (Brandon) Johnson, who led all scorers with 25. The game was played at San Diego's Jenny Craig Pavilion, which must surely have the worst snack bar in all of college hoops.
Tonight's Big Games
Tennessee (17-2) at Alabama (12-8) - I don't know how the game will turn out, but I'm really hoping ESPN can get a five minute in-game interview with Nick Saban. If you watch the basketball, Hendrix is the man for 'Bama. Everyone in orange is dangerous.
Virginia Commonwealth (15-4) at George Mason (14-6) - Eric Maynor is the Dagger. Jamal Shuler is the Electric Blanket. But Mason still has two Final Four veterans on the roster, and will play this one at home.
Eric Angevine writes about basketball at Storming the Floor, and contributes regularly to Chicago Sports Weekly. He can be reached at stormingthefloor@gmail.com.