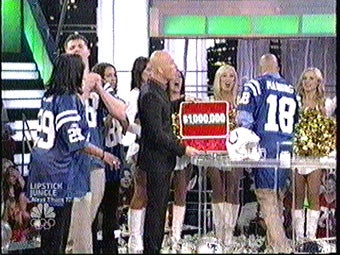 Here's the situation: Four amounts left on the board on the game show Deal or No Deal (NFL Edition!). One is for $1 million, and the other three are for $10,000 or less. What amount does your case hold? George Barnes here can sell his case for $189,000 — but if he does, he'll lose out on the million that may be within. What do you do? You soldier on and hold out for the million, right? Come on, you're wearing a Peyton Manning jersey, which means that you have nerves of steel! Be strong, George! Just like your Colts! NO DEAL! Would George be the show's first millionaire? The case is opened, and ...
As perhaps you can see in the photo, George (on the right) is trying very hard to run away. That's because he went "no deal," sold his case, and lost out on the million which had been in there all along. Poor dumb sap. It had been case No. 18, to boot. This was all very amusing to Jerry Rice, Marcus Allen, Terrell Davis and other former NFL stars who were in the audience (Allen openly chastised Barnes).
So that's the second time I've watched Deal or No Deal (the first was in preparation for this interview). That should hold me for a year or so.
Howie Mandel Packs Suitcase For Stateline [Tahoe Daily Tribune]