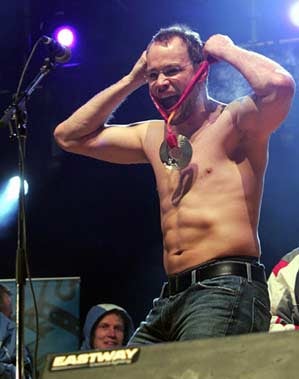 The NHL Closer is written by Greg Wyshynski, of FanHouse and The Fourth Period. He is also the author of Glow Pucks And 10-Cent Beer.
Friends, the persecution of impetuous cheap-shot artists in the NHL must. End. Now. Pittsburgh pest Jarkko Ruutu was so wronged by The Man last night, Tom Morello should be completing a song about it by this afternoon. Five minutes for injuring a star, hitting Ilya Kovalchuk's knee with his own because Kovy tried to pussy his way out of taking a hit near the benches. Five minutes for taking a flurry of Steve McCarthy punches to the noggin. A game misconduct for ... well, being 'Jerkko' Ruttu. He's like the boy who cried "cheap shot," unable to shake the goon label even when he's pleading innocence. I don't know if you're a Christian, Ruutu, but you're a saint to me.
Here's the play in question during last night's 4-1 win by Atlanta. Please note the TSN commentator claiming Ruutu heard an off-sides whistle before it was blown. Jarkko's a lot of things, but I'm pretty sure clairvoyant isn't one of them:
Ruutu explained it like this: "He got the puck. I went to pressure him ... I went to finish my check. He ducked away, and I barely hit him. I didn't change direction. I didn't put my knee out." And then when he was asked if his slap from the pimp hand of justice was due to the fact that he's Jarkko Ruutu and he injured the only reason why people give a shit about the Atlanta Thrashers - well, other than who gets to pick Hossa off the carcass at the trade deadline - he said, "Probably ... I got five minutes for fighting. I didn't even throw a punch. I had my gloves on."
Michel Therrien: Bad coach, great quote. "If Kovalchuk would have stayed there and taken the hit, nothing would have happened." Exactly. You can't look at that hit and see headhunting or knee-hunting or Ruutu doing anything that deserves a suspension. It's all Kovalchuk's fault ... well, OK, it's also the NHL's fault, too. As my FanHouse buddy JP noted last night in an e-mail: "Anyone else find it ironic that had the League given Kovalchuk the suspension he deserved, he wouldn't have been around to get his knee blown up tonight? Karma's a bitch, I s'pose."
Also a bitch: Being Jarkko Ruutu and being in the vicinity of an injury to a star player. I thought the fact he was nearly Malarchuk'd by Chris Simon earlier this season would have earned Ruutu some good will, but the referees are still treating him like the TSA treats Harold and Kumar. As a self-professed pest-lover who proudly rocks a Claude Lemieux jersey, I beg of you: "LEAVE JARKKO ALONE, YOU BASTARDS!"
Fried Duck. Did Giguere decide to wear the legal pads last night or something? Giggy was yanked in Anaheim's 5-1 loss in Minnesota, and has given up six goals in 29 shots over his last two starts. Big statement win for the Wild, but this still isn't the Ducks team they'd face in the postseason until Selanne's rolling again. But for now, the Ducks have last four in a row and are in the midst of an eight-game road trip that only gets worse: They have to meet Bush at the White House next Wednesday.
Blackhawks Bow To PC Police. Chicago found a way to give up six goals to an Avalanche team that's as punch-less as Glass Joe in the first match of "Punch Out," but that wasn't the biggest embarrassment yesterday. No, that would be the team president John McDonough revealing that the team will not be changing its slogan to the wickedly awesome "Commit to the Indian." Demerits for playing the "great respect and concern for being as respectful and reverent as we possibly can" card as an excuse, because that means the whiners won. But, in the end, "Commit To the Indian" returns to where it belongs: Out of corporate hands, and with the fans. Let the unofficially licensed Café Press gear flow like wine, boys and girls!
Puck Headlines
* Barry Melrose has been named one of the worst-dressed sportscasters on television. I think I have a solution for him: Start showing up on ESPN surrounded by these guys. [The Upgrader]


* Bob McKenzie narrows the Peter Forsberg sweepstakes to Anaheim, Calgary, Colorado, Detroit, New York Rangers, Ottawa, Philadelphia, Pittsburgh, San Jose and Vancouver. My money was on Colorado for a while ... but Detroit would be interesting, no? [TSN]
* Hey, Jeremy Roenick said something hilarious and now has to apologize. Again. [FanHouse]
* In case I haven't mentioned it here on the Closer, the HF Boards fucking rule. Today's hot topic: Does Derian Hatcher wear make-up? "His skin always looks so nice on the telly, it's looks lean and soft, more than any other player and it looks like he is wearing make-up." [HF Boards]
* Fair warning: Walking over to a guy at a party and punching him in the face might cost you a spot on the University of Maine hockey team. [The Maine Campus]
* Finally, I'm all for revamping the shootout, but this is ridiculous (NSFW warning: Bare ass):